Editor of Love Alters: Lesbian Stories(Constable & Robinson, UK, aka Love Alters: Lesbian Love Stories, Skyhorse Publishing, US), a 2013 reissue of The Mammoth Book of Lesbian Short Stories [1999], which was shortlisted for a Lambda Literary Award.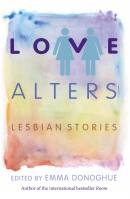 To buy Love Alters
In the US, http://skyhorsepublishing.com/titles/11220-9781620877036-love-alters
In the UK: http://www.constablerobinson.com/?section=books&book=love_alters_9781472109859_paperback
Editor of long section, 'Lesbian Encounters, 1746-1997', in The Field Day Anthology of Irish Wriring Vols IV and V: Irish Women's Writing and Traditions (Cork: Cork University Press, 2002)
Editor of Poems Between Women: Four Centuries of Love, Romantic Friendship and Desire (New York: Columbia University Press, 1997) (UK title What Sappho Would Have Said: Four Centuries of Love Poems Between Women). A Lambda Literary Award Finalist 1997, this anthology brings famous names like Emily Dickinson and Adrienne Rich together with a host of unknown and forgotten women (not all lesbians, by any means) writing love poems to women in English all across the globe, since the 1650s.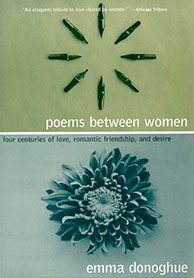 To buy Poems Between Women
In the US, http://cup.columbia.edu/book/poems-between-women/9780231109253
'A refreshingly eclectic and intelligently edited collection of love poems ... what a treat to see work by so many writers who will be unfamiliar to most.' – Gay Times
'Her introduction, dazzling in its range and scope, places in sharp focus the matrix of women's lives, socially and emotionally, over four centuries... Her succinct, vivid biographies of the individual poets offer fascinating illustration and amplification of how these women lived. This outstanding collection showcases the eloquence and passion and yearning of 106 poets.' – San Francisco Examiner