Trespasses (1997). This two-act play, based on my radio play of the same name for RTE, is about a rare Irish witch trial of the seventeenth century: the case of Florence Newton in Youghal.

Cast: eleven roles, which can be played by two women and four men.
PUBLICATION
Trespasses is published in Emma Donoghue: Selected Plays (London: Oberon Books, 2015).
PRODUCTIONS
Workshop production, International Women Playwrights Conference, 1997
Cheltenham Festival of Literature Youth Drama Festival, produced by Cirencester College, 11-19 October 1997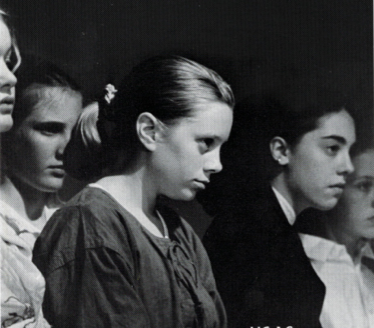 photo of cast of Trespasses, Cheltenham Festival of Literature Youth Drama Festival, 1997
ADAPTATION
Trespasses was adapted by Raymond Deane into an opera, Vagabones, which had its world premiere in Ireland in 2019. https://www.facebook.com/operacollectiveireland/videos/2382413671875906/?v=2382413671875906