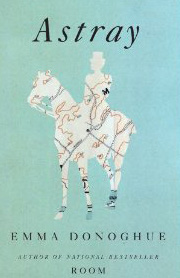 Astray(2012).This sequence of fourteen fact-inspired fictions about travels to, in and from North America, which I wrote one by one over a decade and a half, is my eleventh book of fiction. Astray is published in Canada by HarperCollins (where it got into the Canadian Bestsellers list), in the UK/Ireland/Aus/NZ by Picador, and in the US by Little Brown. The multi-voiced audiobook from Hachette won an Earphones Award. Astray was shortlisted for the 2012 Eason Irish Novel of the Year and the Edge Hill Short Story Prize, and longlisted for the Story Prize, the Andrew Carnegie Medals for Excellence in Fiction and the Frank O'Connor International Short Story Award.
With the turn of each page, the protagonists of these stories go astray in various senses. They are emigrants, runaways, drifters; gold miners and counterfeiters, attorneys and slaves. They cross borders of race, law, sex, and sanity. They travel for love or money, under duress or incognito. Astray transports the reader from puritan Massachusetts to revolutionary New Jersey, from antebellum Louisiana to a 1960s Toronto highway, lighting up four centuries of wanderings that have profound echoes in the present.
'The Lost Seed' is a tragedy based on court records of sex crimes in seventeenth-century Massachusetts.
'The Widow's Cruse' is inspired by a paragraph about a suddenly widowed woman, from a newspaper in 1730s New York.
'The Hunt' – shortlisted for the 2012 Sunday Times EFG Private Bank Short Story Prize – is about a teenage soldier who unwillingly participates in attacks on local women during the American War of Independence.
'Vanitas' is about a girl in 1830s Louisiana who probes her cousin's mysterious death.
'Counting the Days' is based on the 1840s correspondence of two emigrants from Northern Ireland to Canada.
'Last Supper at Brown's' follows a slave and his mistress who conspire to murder their master in Texas in 1864.
'Onward' is suggested by several letters of Charles Dickens about a family he helped to emigrate to Canada.
'The Body Swap' is a noir piece about the gang of forgers who tried to hold Lincoln's corpse to ransom in 1876.
'The Long Way Home' is based on a rumour about a hard-drinking, cross-dressing eccentric in 1870s Arizona.
'Man and Boy' is addressed by zookeeper Matthew Scott to his lifelong companion, Jumbo the Elephant.
'Snowblind' is a fictional tale of two young men who become goldmining 'partners' in the 1890s Klondike.
'The Gift' is inspired by letters to a New York adoption agency from the birth mother and adoptive father of a little girl.
'Daddy's Girl' is about the 1901 death of Murray Hall, a New York politico who turned out to be a woman.
'What Remains' imagines the old age of a sculptor couple, Frances Loring and Florence Wyle.
A personal note: Using the fiction-springboarding-from-fact method that I developed for my collection The Woman Who Gave Birth to Rabbits (2002), but focusing on North America and the theme of life-changing journeys this time, Astray is an oddly autobiographical book. Having emigrated twice, as I explain in the Afterword, I have a stake in these storylines. (It was my agent Caroline Davidson who persuaded me to write the Afterword; I was afraid it would come across as narcissistic but it seems as if critics and readers alike appreciate hearing how I came to these stories.) The working title of the collection was Strays (a genealogical term for people who end up far from home), but that sounded a bit too much like mangy puppies, so I finally settled on Astray, which has wonderful connotations of being a bit 'astray in the head', as we say in Ireland. My favourite of the stories is proabably 'Man and Boy', because of the novel challenge of writing what one review called a 'pachydermic bromance'.
To buy Astray

In the US, paperback: http://www.hachettebookgroup.com/titles/emma-donoghue/astray/9780316206280/
or ebook: http://www.hachettebookgroup.com/titles/emma-donoghue/astray/9780316206266/
or multi-voiced audio: http://www.hachettebookgroup.com/titles/emma-donoghue/astray/9781611134216/
In the UK/Ireland/Australia, paperback: http://www.panmacmillan.com/book/emmadonoghue/astray?format=978144720950801
In Canada, paperback: http://harpercollins.ca/books/Astray-Emma-Donoghue/?isbn=9781443410809
Translations
Verdwaald (Amsterdam/Antwerp: Atlas Contact, 2013)
Egarés (Paris: Stock, 2012)
Reviews
'A beautifully rendered collection of hauntingly vivid short stories… Most of the stories have the seeds of fascinating novels. But the mark of a great short story is how wholly satisfying it can be, spun exactly as it is. Canadian writer Alice Munro has the gift and so does the Irish-born Donoghue… Almost operatic in her ability to capture voices, her bountiful imagination allows Donoghue to cross borders and get under the skin of a wide cross-section of people. She could not have assembled a richer cast of characters. We sense Donoghue's compassion for all of them — even the least appealing… Gorgeously written and thoroughly engrossing,Astraycaptures the uncertainty and complexity of settling into unknown turf. The voices of her characters reverberate in our heads, long after putting the book down.' - USA Today (4/4 stars)
'Donoghue's affinity for yesteryear's untold tales is charming, and her talent for dialect is hard to overstate… Each and every one of Donoghue's characters leaves an impression.' - Time
'Expanding her horizons far beyond the confines of her bestseller Room, Donoghue uses history to conjure 14 haunting tales that span continents and centuries… these seekers and their stories pull you in – and stir your heart.' – People
'Sensitive and intuitive, and her narrative voice moves fearlessly between centuries and between genders… Donoghue displays a ventriloquist's uncanny ability to slip in and out of voices… Donoghue reveals them all, in their places of exile, with gentle yet devastating truth.'- The New York Times Book Review
'What is most impressive about these stories is her ability to plumb historical footnotes for timeless emotional resonance… These fascinating postscripts enhance the stories, like bonus features on DVDs. Besides satisfying our curiosity for what really happened, they offer a peek into the writer's craft.' – Washington Post
'Off we go across the map, gladly following Donoghue wherever she intends to lead us… a book that is an interactive narrative hybrid, one that gets us lost in other lives, one that probes our history, reveals the artist behind the work and that ultimately shows us fresh and that ultimately shows us something fresh, unsettling and enduring about ourselves.' – San Francisco Chronicle
'One senses cumulatively through this book the capacious curiosity of Emma Donoghue's mind, and the breadth of her knowledge. An academic by training and a fiction writer by vocation, she is not only a marvelous researcher, but has the ability expertly to deploy the intriguing details she has uncovered… her exuberant intelligent is restless… Never dull, these stories illuminate worlds like a magic lantern… Donoghue's imagination can alight upon almost anything and revivify it.' – New York Review of Books
'Can inhabit any kind of fictional character and draw us into even the most unfamiliar world with her deep empathy and boundary-defying imagination.' - Newsday
'Displays her mastery at inventing the speech of the most unlikely characters in this story collection. … With such ingenuity, Donoghue achieves the effect of creating magic and wonder in the real world. To follow Donoghue into the unknown is one of the most pleasurable experiences I can think of.' - The Daily Beast.com
'And what a trip it is. Told with pathos and humor, from diverse points of view, in authentic-sounding vernacular, the characters capture us with their hardscrabble lives, gender-bending surprises, money-making schemes, perilous exploits, and terrible losses… Considering the riches of the collection, wanting more is less a complaint than a compliment, especially when treated to such a menu of assorted delights.' – Boston Globe
'Masterful dramatization… these are wise, searching, often funny stories.' – Globe and Mail
'The stories in Emma Donoghue's collection Astray are so compelling they are almost guilty pleasures. Literary fiction is not supposed to be so naked in its appeal to curiosity.' – National Post
'Superb collection… The factual explanations that end each story add a further, raw dimension to the already powerful emotions here… Readers who avoid short stories for fear that they will be less 'satisfying' than novels should sweep doubts aside and read this book. It is a gem.' – Sunday Times
'Donoghue has a remarkable feel for period detail, able to shift effortlessly between continents, centuries, races and classes….She is a shape-shifter, a subtle, imaginative impersonator. What changes from book to book is no less than the style, the era and the author herself. But what unifies all her prose is an uncommon ability to animate a quirk of history, to uncover in her fiction the oddities that make real life so fascinating.' – Financial Times
'An ingenious collection of dark true-life tales… Donoghue's method is inventive, generous and unusually fruitful… Astrayis an essentially hopeful book. It shows the vast talent of a writer for whom every life has its glowing moments, which shine here, despite the dark truths told alongside them.' –Telegraph
'Her compassion is contagious. Whether or not their actual lives were even close to the experiences she has bestowed on them, her evocative writing, beautiful in its pared-down clarity, has a ring of truth… Each of the stories stands on its own but as sequence they build up an emotional momentum that enhances the impact of some utterly memorable fictions in which voices from the past assume a riveting immediacy.' – Independent (Ireland)
Bibliography
Ellen McWilliams, 'Transatlantic Encounters in the Writing of Emma Donoghue', in her Irishness in North American Women's Writing (Springer, 2021), pp.161-80. Considers Landing and Astray. https://link.springer.com/chapter/10.1057/978-1-137-53788-1_7

Milda Danyté, 'All Writers are Border Walkers': Emma Donoghue between History and Fiction in Astray and The Woman Who Gave Birth to Rabbits,' paper delivered at Canada: A World of Transformations conference, University of Latvia, 2018, https://www.researchgate.net/publication/333895840_All_Writers_Are_Border_Walkers_Emma_Donoghue_Between_History_and_Fiction_in_Astray_and_The_Woman_Who_Gave_Birth_to_Rabbits\

Moira Casey and Eva Roa White, 'Unsettled Homes: Borders and Belonging in Emma Donoghue's "Astray"', The Journal of the Midwest Modern Language Association, Vol. 50, No. 2 (Fall 2017), pp. 103-125. Discusses 'Onward', 'The Long Way Home', and 'The Lost Seed'.
Libe García Zarranz, 'Affecting the Ethical Imagination: Emma Donoghue's Astray', Chapter Eight in TransCanadian Feminist Fictions: New Cross-Border Ethics (Montreal: McGill-Queen's University Press, 2017)
Elke D'hoker, 'Double Visions: The Metafictional Stories of Eilís Ní Dhuibhne, Anne Enright and Emma Donoghue,' chapter 7 of Irish Women Writers and the Modern Short Story (Palgrave, 2016), 177-204. Discusses Astray and The Woman Who Gave Birth to Rabbits.
Elke D'koker (KU Leuven), 'Border crossings in Emma Donoghue's Astray (2012)', paper delivered at Reading Short Fiction in Transnational Contexts conference (Trinity College Dublin and University College Dublin, 2015).
Elke D'hoker, 'Transnationalism and the Short Story: Emma Donoghue's Astray,' paper delivered at EFACIS (Palermo, 2015).
Libe Garcia Zarranz, 'TransCanadian Affects in Emma Donoghue's Astray,' paper delivered at BACS (London, 2015).
Libe García Zarranz, 'Assembling a Future of Affective Politics: Cross-Border Ethics in Emma Donoghue's Astray', in 'Queer TransCanadian Women's Writing in the 21st Century: Assembling a New Cross-Border Ethic,' DPhil (University of Alberta, 2013), 237-51
Interview on The Takeaway, 27 November 2012, http://www.thetakeaway.org/2012/nov/27/blank-slate-american-identity-emma-donoghues-astray/
Claire Messud, 'Thank God You'll Never Be Beautiful', New York Review of Books, 22 November 2012, http://www.nybooks.com/articles/archives/2012/nov/22/thank-god-youll-never-be-beautiful/?pagination=false

Interview on National Public Radio, 'All Things Considered', 26 October 2012, http://m.npr.org/story/161269222
Jimmy So, 'From the Essays of a Master of Presidential Biographers, Edmund Morris, to the Problems of the Poems of Octavio Paz and the Brilliant Strangeness of Emma Donoghue', 22 October 2012