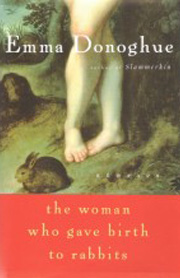 The Woman Who Gave Birth to Rabbits (New York: Harcourt; London: Virago, 2002), my fifth book of fiction and second story collection, is a sequence of short stories about peculiar incidents in the history of the British Isles, from a 1300s Satanist to an 1800s animal-rights campaign. It was a finalist in the 2003 Stonewall Book Award. It has also appeared in Dutch.
'Acts of Union': in Mayo in the early 1800s, an army officer is tricked into a fraudulent marriage.
'Account': an experimental story in a list format, about a king's mistress who died mysteriously in 1490s Scotland.
'Ballad': inspired by the old folk song of Bessy Bell and Mary Gray, this is about war, plague and a love triangle in Methven, Scotland in 1645.
'Come, Gentle Night': suggested by my father, this is a painful comedy about the wedding night of John Ruskin and Effie Gray in Scotland in 1848.
'Cured': based on the case notes of the controversial surgeon Isaac Baker Brown in 1860s London.
'Dido', inspired by a portrait at Kenwood House in Hampstead: in the 1770s, a mixed-race girl, raised by her great-uncle, discovers what life is like outside the garden wall.
'The Last Rabbit': the story of Mary Toft, who in the 1720s managed to trick all of England by claiming to have given birth to eighteen rabbits.
'The Necessity of Burning': a female brewer gets caught up in the Peasants Revolt in Cambridge in the 1380s.
'Revelations' : narrated by a maverick Presbyterian minister, this is the story of a Scottish cult's attempt to fast for forty days in Dumfriesshire in 1786.
'Salvage' : set on the storm-swept Norfolk Coast in 1823, when a crippled lady scholar of Anglo-Saxon intervened to save drowning sailors.
'Night Vision' : in Donegal in 1824, a blind girl fought for the right to educate herself.
'Figures of Speech': in Genoa in 1632, an Irish countess, facing childbirth, looks back at her turbulent past.
'A Short Story': about the brief life of Caroline Crachami, the world's shortest girl - a popular freak-show attraction until her death in London in 1823.
'The Fox on the Line': set in London in the 1870s, this story about the moment when two women tried to get vivisection banned.
'How a Lady Dies': the story of a consumptive gentlewoman with a death-wish in 1759 Bath.
'Looking for Petronilla': history mixes with fantasy as a contemporary woman goes to Kilkenny in search of traces of Petronilla de Meath, the fourteenth-century maid of Ireland's most famous witch.
'Words for Things': in Cork in 1786, a teenage girl forms a complex bond with her governess, one Mistress Mary Wollstonecraft.
A personal note: Again, Lennie Goodings at Virago deserves the credit for demanding a more user-friendly title for this book, which I had always called Histories of Nothing (the kind of title that would appeal only to academics, I fear). Long before that, it was Margaret Reynolds who – by asking for a short story, and, instead of taking my no for an answer, suggesting I base one on the research I was doing for Passions Between Women – first nudged me in the direction of this kind of hybrid faction. The Woman Who Gave Birth to Rabbits, using both scholarly and imaginative methods to resurrect long-forgotten women, queers, troublemakers, freaks and other nobodies, set a sort of agenda for the historical fiction I've been writing since the late 90s.
To buy The Woman Who Gave Birth to Rabbits
In the US, paperback: http://www.hmhco.com/shop/books/The-Woman-Who-Gave-Birth-to-Rabbits/9780156027397
or ebook: http://www.hmhco.com/shop/books/The-Woman-Who-Gave-Birth-to-Rabbits/9780547630366
In the UK/Ireland/Australia, paperback:
https://www.littlebrown.co.uk/books/detail.page?isbn=9781860499548
or ebook: https://www.littlebrown.co.uk/books/detail.page?isbn=9780748133468
Reviews
'She uses scraps of history to spin raucous, whole-cloth yarns… Earthy, exhilarating tales.' – Elle
'Piercing imagery, clever plotting, splendid stories' – Time Out
'What is so astonishing about this collection is not just that the stories are exotic, though that is one of the pleasures of historical fiction. Nor is it the skill with which Donoghue revives history; the places and times and people of these tales come hurtling up off the page from the deep past with the emotional force of the newly awakened dead presenting themselves at your bedside in the middle of the night. Nor is it the pure economy of Donoghue's writing, its cleverness, its startling insights, its brisk and surprising turns, its grim humor, its sadness and tenderness. It is all those things -- which would be enough, surely -- and then something else, too. Donoghue tells these stories simply, almost conversationally, and they have the unmistakable, uncanny ring of truth … In the best of them, she shows herself to be captivated by the surprising possibilities of human nature; a loving chronicler of the physical world, especially the lost physical world of the past; and a sensitive compass in the arena of moral and emotional dilemma. And she is delightfully, sympathetically (one almost senses, helplessly) attuned to the demanding business of being alive, along with the mysterious process by which experience can be transformed into art. These stories spill their riches over the page … The Woman Who Gave Birth To Rabbits is more than just a poised encounter with history's detritus. It is an inspired dance on the narrow and exhilarating cliff-edge of art.' – Washington Post
'Eccentric, untethered genius… Facts from history and fiction from Donoghue's fertile brain are then mixed and spread across a new canvas, each one an original. … Donoghue works a sorcerer's trick in these offerings -- each seems to be exactly as long as it should be.' – Seattle Times
'A smorgasbord of wry, robust and extraordinary tales.' – Publishers Weekly
'Razor-sharp vignettes of the fates of women… You'll think of Boccaccio and Chaucer (as well as Angela Carter and Margaret Atwood)… These jewel-like stories vibrate with thickly textured detail and vigorous period language. Donoghue's colorful, confrontational historically based fiction is making something entirely new and captivating out of gender issues.… Donoghue has staked a claim to her own distinctive fictional territory.' – Kirkus
'Each portrait is so strikingly original and so utterly convincing that readers will be hard pressed to believe the story could have happened any other way. Enthusiastically recommended.' – Library Journal
Bibliography
Carl Plasa, 'The Secret Afterlives of Dido Elizabeth Belle', in his Literature, Art and Slavery: Ekphrastic Visions (Edinburgh University Press, 2023), pp.95-128, discusses 'Dido'.
Rachel M Friars, '"You're not the stuff of a chapter": Queer Life and Women's Activism in Biofictions by Emma Donoghue', conference paper, The Neo-Victorian and the Late-Victorian (Brighton 2021), https://blogs.brighton.ac.uk/neovictorian/rachel-m-friars/ Discusses 'The Fox on the Line' .
Florina Nastase (Universitatea Alexandru Ioan Cuza), 'Posthumanism in "The Last Rabbit" by Emma Donoghue,' conference paper, the 3rd International Symposium for Students and Young Researchers InterCultura (Nov 2020), https://www.researchgate.net/publication/349848992_Posthumanism_in_The_Last_Rabbit_by_Emma_Donoghue

Milda Danyté, ''All Writers are Border Walkers': Emma Donoghue between History and Fiction in Astray and The Woman Who Gave Birth to Rabbits,' paper delivered at Canada: A World of Transformations conference, University of Latvia, 2018

Elke D'hoker, 'Double Visions: The Metafictional Stories of Eilís Ní Dhuibhne, Anne Enright and Emma Donoghue,' chapter 7 of Irish Women Writers and the Modern Short Story (Palgrave, 2016), 177-204. Discusses Astray and The Woman Who Gave Birth to Rabbits.
Claire O'Callaghan, 'Neo-Victorian After-Affects: Female Genital Mutilation in Emma Donoghue's 'Cured' – The Scandalous Case of Isaac Baker Brown,' in Victoriographies, 6:2 (June 2016), 147-164.
Debbie Brouckmans, 'The Short Story Cycle in Ireland: From Jane Barlow to Donal Ryan', PhD thesis (U of Leuven) 2015. A superb analysis of my story cycles, including The Woman Who, as historiographic metafiction. https://core.ac.uk/download/pdf/34624902.pdf
Debbie Brouckmans and Elke D'hoker, 'Rewriting the Irish Short Story: Emma Donoghue's The Woman Who Gave Birth to Rabbits,' Journal of the Short Story in English, 63 (2014), https://jsse.revues.org/1528. A particularly insightful analysis of this collection's aims and methods.

Libe García Zarranz, 'An Archive of Spectacular Wonders: The Biocapitalization of the Female Body in Emma Donoghue's The Woman Who Gave Birth to Rabbits,' in 'Queer TransCanadian Women's Writing in the 21st Century: Assembling a New Cross-Border Ethic,' DPhil (University of Alberta, 2013), 102-21 https://www.academia.edu/6409519/An_Archive_of_Spectacular_Wonders_The_Biocapitalization_of_the_Female_Body_in_Emma_Donoghue_s_The_Woman_Who_Gave_Birth_to_Rabbits Focusing on 'A Short Story' and 'The Last Rabbit'.
Lori Bennett, 'The Other Side of the Story: Femininity, Sexuality and Patriarchal Ireland in the short stories of Mary Lavin, Clare Boylan and Emma Donoghue', in Voicing Dissent: New Perspectives in Irish Criticism, ed. by Sandrine Brisset and Noreen Doody (Irish Academic Press, 2012). Focusing on 'Cured'.
Linden Peach, 'Women Writers', in Teaching the Short Story, ed. by Ailsa Cox (Basingstoke: Palgrave Macmillan, 2011), 60-75 (69-72). Focusing on 'Cured'.
Tristanne Connolly, 'Emma Donoghue's Archival Short Stories: The Woman Who Gave Birth to Rabbits,' paper delivered at University of Tokyo (2009).
Hannah McGregor (University of Alberta), 'The Tribade, the Dwarf and the Blind Girl: Queering the Body in Emma Donoghue's The Woman Who Gave Birth to Rabbits,' Queering Ireland Conference (Halifax, 2009). Interesting analysis of 'Figures of Speech', 'Night Vision', 'Looking for Petronilla', 'Words for Things' and 'A Short Story'.
Serena Todesco, 'The Woman who Gave Birth to Stories: Emma Donoghue and the Reinvention of Gender in Historical Fiction,' in Language, Literature and Cultural Studies (I:1, June 2008, Military Technical Academy, Bucarest).
Ellen Crowell, The Dandy in Irish and American Southern Fiction: Aristocratic Drag (Edinburgh University Press, 2008), 178-88, epilogue on Emma Donoghue's 'Words for Things' and Jim Grimsley's Dream Boy.
Linden Peach, Contemporary Irish and Welsh Women's Fiction: Gender, Desire and Power (Cardiff: University of Wales Press, 2007), 30-43. The best analysis I know of The Woman Who Gave Birth to Rabbits.
Ellen Crowell (University of Texas at Austin), 'Nothing Comfortable About This Love: Emma Donoghue's 'Words for Things',' paper delivered at ACIS (2003).
Alex Clark, 'Rescued from History', Times Literary Supplement, 7 June 2002
'Cabinet of Wonders', Carrie Brown, Washington Post, 19 May 2002
''Woman' Enchants in Fact-based Fancy', Seattle Times, 28 April 2002
'The Woman Who Gave Birth to Rabbits', Kirkus, March 2002