I KNOW MY OWN HEART (1993). My first play, nominated for the Stewart Parker Award for Best Irish Debut Play, is very loosely based on Helena Whitbread's groundbreaking book of the same name (Virago, 1988), a selection of the secret diaries (1817-24) of Regency lesbian eccentric Anne Lister, and I would like to thank Helena Whitbread for her kind permission and encouragement.

Cast: four women.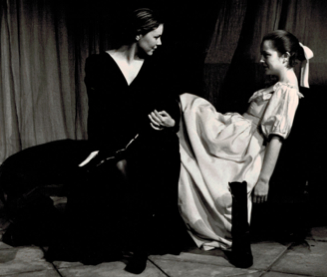 Clare Dowling as Anne (left), and Aisling Cronin as Nancy, in I Know My Own Heart (Glasshouse Productions, 1993).
PUBLICATION
I Know My Own Heart is published in Emma Donoghue: Selected Plays (London: Oberon Books, 2015) and in Seen and Heard: Six New Plays by Irish Women, ed. by Cathy Leeney (Dublin: Carysfort Press, 2001).

PRODUCTIONS
One-act version, Project Arts Centre, Dublin, directed by Katy Hayes, produced by Glasshouse Productions in association with Project Arts Centre as part of the Acts and Reacts Festival, 14-24 April 1993. (World Premiere)
Two-act version, Andrew's Lane Theatre, Dublin, directed by Katy Hayes, produced by Glasshouse Productions, 3 November 1993. (World Premiere)
Two-act version, Dramsoc, University College Dublin, directed by Louise Drum, 14-18 February 1994.
Two-act version, Dublin Gay Theatre Festival, Dublin, produced by DAYMS, May 2006.
Staged reading of two-act version, LEND festival, New York City, directed by Jessica Bauman, 25 June 1994.
Staged reading of two-act version, TOSOS, New York City, directed by Mark Finley, 8 March 2008.
US premiere (two-act version), Pride Films and Plays, Chicago, January 2019.
REVIEWS
'HIGHLY RECOMMENDED. Don't let the label 'a lesbian love story' keep you away. This is a well-made story for everyone about an individual who was simply way aheada of her time.' – Chicago Theatre Review
'Lister's life—and her unflappable ability to live her truth (as we'd say today)—becomes a means to examining bigger themes of independence, gender equality, class, friendship and more.'– Third Coast Review
'A semi-fictionalized account of badass women undergoing the messy, exciting venture of rewriting the unofficial rules of relationships in English high society. … At its most fun, I Know My Own Heart escapes its stuffy collars and labyrinthian complications of relationships altogether and depicts the joys and solidarity of 19th century women enjoying each other's company.'- Chicago Reader
'A simultaneously funny and tense look at how real life is conducted under the strict gaze of 19th century moral code. … It tells a joyful and heartbreaking story, but it refrains from doling out punishments and tragedies to the intrepid women it follows.'– 1234theatre.com
'A witty, humorous and affectionate celebration of this fiercely independent and self-aware woman' – Sunday Tribune
LITERARY CRITICISM
Shonagh Hill, 'Lesbianism and Legibility in Emma Donoghue's I Know My Own Heart (1993)', in The Golden Thread: Irish Women Playwrights, Volume 2 (1992-2016), eds David Clare, Fiona McDonagh and Justine Nakase (Liverpool U.P., 2021), pp.33-44
J. Paul Halferty, 'Performing politics: queer theatre in ireland, 1968-2017,' in The Palgrave Handbook of Contemporary Irish Theatre and Performance, eds. Eamonn Jordan and Eric Weitz (2018), pp.181-99.
Samuele Grassi, Looking Through Gender: Post-1980 British and Irish Drama (Cambridge Scholars Publishing, 2011), 113-14
Cathy Leeney, 'Emma Donoghue' in The Methuen Drama Guide to Contemporary Irish Playwrights, ed. by Martin Middeke and Peter Paul Schnierer (Methuen, 2010), 73-88 (74-81).
Maria Kurdi, 'Lesbian Versions of the Female Biography Play: Emma Donoghue's I Know My Own Heart and Ladies and Gentlemen', in Deviant Acts: Essays on Queer Performance, ed. DavidCregan (Dublin: Carysfort Press, 2009), 37-54.
Fintan O'Toole, ed. by Julia Furay and Redmond O'Hanlon, Critical Moments: Fintan O'Toole on Modern Irish Theatre (Dublin: Carysfort Press, 2003), 119-21
Anna McMullan, 'Gender, Authorship and Performance in Selected Plays by Contemporary Women Playwrights: Mary Elizabeth Burke-Kennedy, Marie Jones, Marina Carr, Emma Donoghue', in Theatre Stuff: Critical Essays on Contemporary Irish Theatre, ed. Eamonn Jordan (Dublin: Carysfort Press, 2000), 34-46.