Kissing the Witch (2000).
My third full-length play, an adaptation of five of the thirteen stories from my fairy-tale book of the same name (1997), was commissioned by San Francisco's Magic Theatre.

Cast: three women, one man.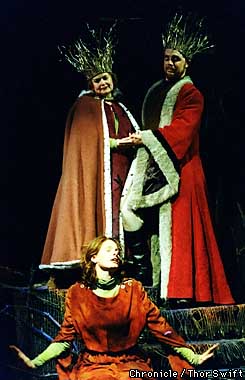 Kissing the Witch at the Magic Theatre, photo (c) Thor Swift, 2000

PUBLICATION
Kissing the Witch is published in Emma Donoghue: Selected Plays (London: Oberon Books, 2015), introduction by Cathy Leeney, http://oberonbooks.com/emma-donoghue-selected-plays
PRODUCTIONS
Magic Theatre, San Francisco, directed by Kent Nicholson, 2-25 June 2000. (World Premiere)
University of Akron, Ohio, directed by Rebecca P. Vojanov, 2000.
HAG Theatre, Buffalo, directed by Margaret Smith, 9-24 February 2001.
Suisun Harbor Theatre, California, directed by Jackie S. Hill, produced by SCT, 14-23 June 2001.
Buddies in Bad Times, Toronto, directed by Elley Ray Hennessy, produced by Wicked Women Co-op (BANG! Productions), 14-31 March 2002. (Canadian Premiere)
Access Theatre, NYC, directed by Marcus Geduld, Folding Chair theatre, 4-28 October 2012. (NYC Premiere)
Ubiquitous Theater, Ypsilanti Michigan, April 19-21 2018.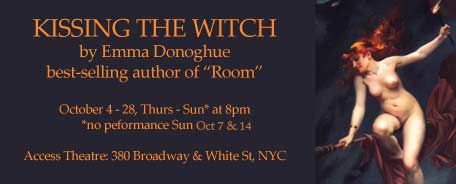 Poster, Folding Chair Theatre, 2012
REVIEWS
'From Page to Stage in Style', Bay Area Reporter (San Francisco), 8 June 2000.
Steven Winn, 'Magic's 'Witch' Spells Out Women's Hard Journeys: Emma Donoghue's Reworked Fairy Tales Are Enchanting,' http://www.sfgate.com/entertainment/article/Magic-s-Witch-Spells-Out-Women-s-Hard-Journeys-3239137.php