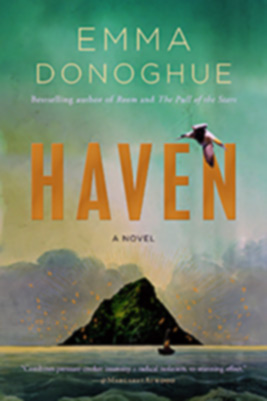 Haven (New York: Little Brown; Toronto: HarperCollins Canada; London: Picador, 2022).

In this adventure story set around the year 600, three Irishmen vow to leave the world behind and set out in a small boat to found a monastery on an island their leader has seen in a dream, with only faith to guide them. Drifting out into the Atlantic, they find an impossibly steep, bare rock inhabited by tens of thousands of birds, and claim it for God. In such a place, what will survival mean?
Haven is Donoghue's fourteenth novel (and eighteenth book of fiction) and was a bestseller in Canada and Ireland on publication.

A personal note: This novel was inspired by a boat trip around the Skelligs in 2016. My plans to return and land on Skellig Michael in 2020 were derailed by what the monks would no doubt have taken in their stride as the latest pestilence to plague humankind, so I've never been there, except in spirit and imagination - the one form of travel that can't be forbidden.
To buy Haven:
In the US
https://www.littlebrown.com/titles/emma-donoghue/haven/9780316413930/
In Canada
https://www.harpercollins.ca/9781443466844/haven/
In the UK
https://www.panmacmillan.com/authors/emma-donoghue/haven/9781529091113
Wherever you live, PLEASE support your local indie bookstore by buying from them either directly or through an indie-friendly hub such as bookshop.org or hive.co.uk.
EXTRAS
Excerpt from the beginning of Haven: https://www.cbc.ca/books/emma-donoghue-s-historical-fiction-book-haven-imagines-ireland-around-the-year-600-read-an-excerpt-now-1.6517709
Kim Honey, 'How a 21st-century Feminist Inhabits the Minds and Lives of Sixth-Century Monks in Haven,' https://www.everythingzoomer.com/zed-book-club/2022/09/28/how-a-21st-century-feminist-inhabits-the-minds-and-lives-of-sixth-century-monks-in-haven/
Margaret Skea, Interview/Feature, 'A Deceptively Simple Story: Confinement, Family and the Environment in Emma Donoghue's Haven,' https://historicalnovelsociety.org/a-deceptively-simple-story-confinement-family-and-the-environment-in-emma-donoghues-haven/
REVIEWS
'Combines pressure-cooker intensity and radical isolation, to stunning effect.' - Margaret Atwood
This book kept me up half the night - I was unable to put it down, and read it in one spellbound gulp. It is everything a novel should be: compassionate, unpredictable, and questioning. Haven is Donoghue at her strange, unsettling best.' - Maggie O'Farrell
"What a beautiful, intense, blazing, richly-woven yet spartan and unsparing book this is. I couldn't put it down. Lyrical and then visceral, appearing at one moment tranquil and another so intense it's like being bitten and clawed.' - Rachel Joyce
'A beautiful and timely novel about isolation, passion and the conflict between obedience and self-preservation. The island setting and the characters stayed with me long after I finished reading.' - Sarah Moss
'Told with the clarity of a fable … a patient, thoughtful novel with much to say.' - Esi Edugyan
' "Haven" creates an eerie, meditative atmosphere that should resonate with anyone willing to think deeply about the blessings and costs of devoting one's life to a transcendent cause. ... a story of survival trapped in a very small space, completely cut off from the world: "Room" with a view ... The effect is transporting, sometimes unsettling and eventually shocking. Trian's affection for his companions, the birds, the island — everything — is so sweet and vulnerable that tragedy starts to haunt these pages like the coming winter. ... the story's tight focus; its single, steadily rising arc; and especially its walloping conclusion.' - Ron Charles, Washington Post
'Mesmerising prose' - Good Morning America
'Donoghue's characterizations of the three men, her vivid imagining of the measures they must take to survive, and her beautiful descriptions of the landscape and wildlife — puffins galore — make this book readable even for those who don't care much about medieval Christianity ... Donoghue is good at endings, as readers of "Room" know, and here again she metes out narrative justice with a firm hand.' - Star Tribune
'Donoghue's prose glimmers with images of the pristine natural world ... As always, Donoghue extracts realistic emotions from characters interacting within close quarters and delicately explores the demands of faith. ... All lovers of thought-provoking literary fiction will be looking for this quietly dramatic tale.' - Booklist
'Donoghue has left behind none of her ability to spin a compelling story and people it with sharp characterizations. ... Generating narrative tension from a minimum of action, Donoghue brings the monks' conflicts to … a satisfying conclusion. Reminiscent of Room (2010) in its portrayal of fraught interactions in a confined space ... More fine work from the talented Donoghue. - Kirkus
'Brilliantly realized, utterly transporting ... Donoghue's detailing of the island's rugged geography and the methodical subsistence work of its dogged new stewards is masterful, almost hypnotic, but it's the author's quietly devastating depiction of the conflict between faith and survival, obedience and self-preservation, that powers this extraordinary novel.' - lithub.com (starred review)
'Vivid reimagination ... a blend of survival story, an elaboration of a tense psychological triangle and an exploration of charisma and hubris ... It is the dynamics of this tiny, ill-assorted trio that really fascinate us.' - Times Literary Supplement
'Thrilling, chilling, disturbing and often frustrating exploration of the human spirit' - Calgary Herald
'A divine monastic three-hander' - Irish independent
'A fine allegorical tale ... Donoghue is at her very best in her descriptions of landscape, nature and the battle to survive in a hostile world. Once on the island, the pace is rapid, tension high and the pages turn easily. Wonderful stuff.' - Sunday independent
'A stirring, page-turning read' - Sunday Business Post
'The novel's tension and suspense really begin to crystallize. In classic Donoghue narrative style, it all unfolds in a confined space under cramped conditions ... convincingly conveyed by Donoghue's raw descriptions and her exceptional skill with emotionally authentic dialogue' - Chicago Review of Books
'Satisfying and thought-provoking... extraordinary... heavens, it's good' - INews
'There is a poetically repetitive, at times meditative quality to the writing that makes it a pleasure to read, but she doesn't sacrifice pace either. The men, in particular Cormac and Trian are well-rounded characters and by the end readers are rooting for them and hoping that sense will prevail. Haven is a gentle book, a fascinating exploration of human nature and an immensely enjoyable read.' - RTE.ie (book of the week)
'Donoghue's characterizations of the three men, her vivid imagining of the measures they must take to survive, and her beautiful descriptions of the landscape and wildlife — puffins galore — make this book readable even for those who don't care much about medieval Christianity.'- Minneapolis Star Tribune
'As in her hit bestseller, Room, Donoghue's powers of description expand small, confined spaces until they contain worlds of universal depth. ...Thoughtful and thought-provoking, Haven captures the gulf that can grow—especially during times of hardship—between what we say we believe and how we live.' - Bookpage
'Deliciously claustrophobic ... Donoghue excels at creating isolated atmospheres and examining the dynamic of small casts of characters--as in Room or The Pull of the Stars. ... A powerful study of religious obsession and confinement, this is one for readers of Matrix and To Paradise.' - Shelf Awareness
'An intricate slow burn' - Publishers Weekly
'Part-fable, part-thriller --- a moving tale with a pervading sense of unease that grips you till the last page.' - Globe and Mail
'Quietly enthralling ... subtle, vibrating tension' - Toronto Star
'One of Canada's top literary shapeshifters ... Donoghue conjures the same magic [as in Room] with her latest novel, Haven. ... Somehow, Donoghue has turned a novel about Dark Age monks into something terrifyingly modern. In a different time and place, Artt could be a Scientology guru, an Instagram influencer or Donald Trump.' - Reader's Digest
'Robust evidence of her vast imagination and continued efforts to explore human psychology in the strangest of circumstances.' - Reaction
'A gripping yarn: a Christian Castaway 2000; a Lord God Almighty of the Flies. Slowly, skilfully Donoghue builds a sense of brooding intensity ... what elevates her book above a theological thriller is the way she links Artt's arrogance with the contemporary plundering of the Earth's resources.' - The Big Issue
'Sinister, heart-wrenching, and beautifully written.' - The Times
'Written in an admirably plain and lucid style, Haven is slow but ultimately moving in its revelation of friendship and human decency.' - Sunday Times
'Donoghue wrings plenty of narrative sustenance from her barren landscape. ... This is a miniature created with a muted palette, sombre in aspect but crowded with quietly beautiful details. And its subject, of course, is a universal one: we're all stuck on this rock.' - The Guardian
'Revisits the past in an imaginative way ... a remarkably engrossing tale' - Scottish Mail on Sunday
'A timely alllegory ... brooding, dreamlike ... Though this is a text replete with religious fable, it's in descriptions of the physical world that Donoghue's prose soars and the narrative's claustrophobia is alleviated. Likewise, among themes that include isolation and devotion, its ecological warnings are its most resonant. ... a flinty kind of hope brightens its satisfying ending.' - The Observer
'Donoghue wrings unlikely psychodrama from such everyday chores of monastic life as copying a manuscript ... rest assured that the devastating denouement amply repays the reader's patience' - Daily Mail
'Donoghue excels in creating not just a world but a worldview that is far removed from our own. ... a bold, thoughtful novel, whose austerity matches its setting.' - Financial Times
'A tremendously real imagining of the experiences of the first three people to land on Skellig Michael in about AD 600 ... if the setting is centuries ago, the themes feel ultra-modern. ... her skilled character creation adds vibrancy. Artt the zealot, Cormac the sage and young outsider Trian make for a winning trinity.' - Irish Times
'Donoghue's disconcerting prose thickens the intensity in a slow burn novel that simmers with passion' - Ireland Live