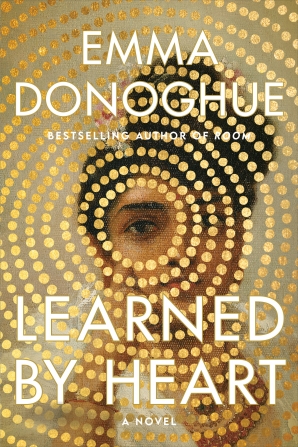 Learned by Heart (New York: Little Brown; Toronto: HarperCollins Canada; London: Picador, 2023).

The heartbreaking story of two very different women - diarist Anne Lister, the inspiration for the series Gentleman Jack, and orphaned biracial heiress Eliza Raine - who meet at fourteen and upend each other's lives.
Learned by Heart is Donoghue's fifthteenth novel (and nineteenth book of fiction). It became a bestseller in Canada on publication and was shortlisted for the Atwood Gibson Writers' Trust Fiction Prize. The audiobook narrated by Shiromi Arserio is the winner of an Audiofile Earphones Award.

A personal note: I've been obsessed with the puzzling and tragic fate of Anne Lister's first lover, Eliza Raine, since writing my first play, back in 1990, which was a very loose adaptation of Helena Whitbread's first book of selections, I Know My Own Heart: The Diaries of Anne Lister, 1791-1840. This long-brewing novel, Learned by Heart, brings the young Raine and Lister together at the Manor School in York.
To buy Learned by Heart:
In the US
https://www.hachettebookgroup.com/?s=learned+by+heart+donoghue
In Canada
https://www.harpercollins.ca/9781443470315/learned-by-heart/
In the UK
https://www.panmacmillan.com/authors/emma-donoghue/learned-by-heart/9781035017768
Wherever you live, PLEASE support your local indie bookstore by buying from them either directly or through an indie-friendly hub such as bookshop.org or hive.co.uk.
EXTRAS
Videos about the research for and settings of Learned by Heart: https://thinairfestival.ca/user/1183/
Excerpt from the beginning of Learned by Heart: https://www.cbc.ca/books/emma-donoghue-s-next-book-is-a-historical-novel-about-a-secret-romance-for-the-ages-read-an-excerpt-now-1.6865669
Excerpt from Anne and Eliza's first meeting in Learned by Heart: https://www.theglobeandmail.com/arts/books/article-learned-by-heart-read-an-excerpt-from-emma-donoghues-new-novel/

Article on the research for and writing of Learned by Heart: https://www.waterstones.com/blog/in-search-of-eliza-raine-emma-donoghue-on-writing-learned-by-heart
Article with photos about the making of Learned by Heart: https://www.panmacmillan.com/blogs/literary/gentleman-jack-anne-lister-and-eliza-raine
A dozen books that inspired this one: https://uk.bookshop.org/lists/emma-donoghue-books-that-inspired-learned-by-heart
TRANSLATIONS
Learned by Heart is forthcoming in French, Italian, and Korean.
REVIEWS
'Ss forensic as it is intimate ... A gem in its own right: precise, intimate, deep ... so immersive that it has to be finished in one go' - The Hindu
'Fascinating story ... characters with complex internal lives, insights into the human soul and a wrenching love story that's both queer and multiracial.' - Washington Post
'A hugely sympathetic heroine ... enthralling novel' - Irish Times
'Rich with period detail and passionate, heartbreaking storytelling.' - Reader's Digest
'Everything about the spellbinding "Learned by Heart" strikes me as nearly perfect. ... even more masterful because of the seeming ease with which it combines the lyrically imagined with the painstakingly researched... Sublime sensitivity and stirring eroticism.' - Minneapolis Star Tribune
'A tender, sad account of first love' - The Atlantic
'Glorious, richly imagined, compassionate tale' - Toronto Star
'A slow burn (with an unexpected melancholy coda), brim-full of school lore and gossipy pupils, and ablaze with desire, doubt and delight.' - Daily Mail
'Donoghue is at her very best evoking the mysteries and miracles of first love... Donoghue's prose is beautiful and beautifully controlled. Simply and without a shred of sentimentality, she evokes a relationship that is convincing and exquisitely touching'. - Guardian
'Rich and spellbinding... raw and unflinching... a moving exploration of love, loss and identity' - Independent
'Exquisite coming of age love story' - Times
'Donoghue's heartfelt novel is moving and evocative' - Mail on Sunday
'Breathtaking' - Irish Examiner
'From the first chapter to the last, renowned author Emma Donoghue fleshes out her characters beautifully... Emma's prose and writing style weaves magic' - Deccan Chronicle
BIBLIOGRAPHY
Chris Bohjalian, 'Emma Donoghue serves up more fearless historical fiction,' Washington Post, 17 August 2023, https://www.washingtonpost.com/books/2023/08/17/emma-donoghue-historical-novel/