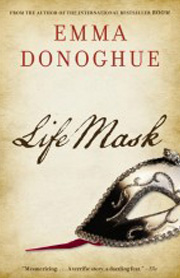 Life Mask (New York: Harcourt; London: Virago, 2004), my fourth novel, is about a love triangle in 1790s London, among the elite who moved through the overlapping worlds of art, politics, sport and theatre. It tells the tangled true story of three people who lived in the harsh glare of publicity: the Honourable Mrs Anne Damer (a widowed sculptor with a Sapphic reputation), the Earl of Derby (a fabulously wealthy politician who founded the Derby horserace), and Eliza Farren (the leading comedy actress on the British stage). Life Mask was a finalist in the 2005 Lambda and Ferro-Grumley Awards for Lesbian Fiction and the Stonewall Book Award, and was chosen as one of the Best Books of 2004 by the Washington Post.
A personal note: Life Mask, which I delivered just before doing the same for our first child, was based on the kind of bottomless research that I can't quite imagine having the time to do now that I have kids. It taught me that it's actually much easier to write about the poor, as in Slammerkin, because they left so few texts behind, unlike rich and articulate folk such as Horace Walpole, one of the characters in Life Mask. The research – into my characters' worlds of theatre, art, sport and politics – was endlessly enjoyable. I set myself the challenge of sticking as closely to historical fact as I could, writing for instance about a dinner party happening on the day – and with the guest list – that it really did. The result is that Life Mask is both the longest and the most slowly paced of all my books – but for those readers who like to immerse themselves in a glamorous lost world, that's not necessarily a bad thing.
To buy Life Mask
In the US, paperback: http://www.hmhco.com/shop/books/Life-Mask/9780156032643
or ebook: http://www.hmhco.com/shop/books/Life-Mask/9780547541464
or audio: http://www.randomhouse.com/audio/catalog/display.php?isbn=9781415961988
In the UK/Ireland/Australia, paperback: https://www.littlebrown.co.uk/books/detail.page?isbn=9781844081752
or ebook: https://www.littlebrown.co.uk/books/detail.page?isbn=9780748133475
on audio: https://thereadinghouse.co.uk/products/lifemask-by-emmadonoghue?_pos=6&_sid=7edcf9ef4&_ss=r
In Canada, a wonderfully illustrated paperback: http://harpercollins.ca/books/Life-Mask-Emma-Donoghue/?isbn=9781443406956
or ebook: http://harpercollins.ca/books/Life-Mask-Emma-Donoghue/?isbn=9781443406963
Wherever you live, PLEASE support your local indie bookstore by buying from them either directly or through an indie-friendly hub such as bookshop.org or hive.co.uk.
Reviews
'Fabulously entertaining… a full-bodied tale that satisfies the head and the heart' Kirkus Reviews
'A mesmerizing new novel, which at 650 pages is like one of those great 19th-century tomes that you're sad to see come to an end.... Donoghue...has alighted on another terrific story, and she pulls off a dazzling feat of choreography in setting it all in motion. As Georgina, Duchess of Devonshire would say, 'It was all simply ravish.' ' Washington Post Book World
'Donoghue… has an extraordinary talent for turning exhaustive research into plausible characters and narratives; she presents a vibrant world seething with repressed feeling and class tensions.' Publishers Weekly (starred review)
Bibliography
Hilary McCollum, ' "As a Lover" & "Exploring the Wreck": (Re)creating the lesbian past through historical fiction, D Phil (Queens, 2022), Ch 3 'Keeping It Real: Emma Donoghue's Life Mask as Allegorical Realism,' pp.293-307
José Carregal, Queer Whispers: Gay and Lesbian Voices of Irish Fictions (University College Dublin Press, 2021), Ch. 8 ' "A Nation of the Heart": Queering the Past in Irish Historical Fiction', pp.144-48
James Ward, 'Emma Donoghue's Enlightenment Fictions,' in Memory and Enlightenment: Cultural Afterlives of the Long Eighteenth Century (London: Palgrave Macmillan, 2018), Ch.3
Michael Lackey, 'Emma Donoghue: Voicing the Nobodies in the Biographical Novel,'
 in Éire-Ireland, 53:1-2 (Spring/Summer 2018), 120-133, and in his ed. Conversations with Biographical Novelists: Truthful Fictions across the Globe (London: Bloomsbury, 2018), 81-92.
Katharine Harris, "'Part of the project of that book was not to be authentic': neo-historical authenticity and its anachronisms in contemporary historical fiction," Rethinking History 21.2 (2017), 193-212.
Katie Osborn (Notre Dame), "'Don't Tell Me': The (In)Articulation of Desire in Emma Donoghue's Life Mask," paper delivered at ACIS (Notre Dame, April 2016).
Susanne Schmid (Frei Universität, Berlin), 'Emma Donoghue's Life Mask: New Historicism and the Biographial Novel,' paper delivered at MLA (Vancouver, 2015).
Martha Bowden, 'Life Mask by Emma Donoghue: the Lawrence Portrait of Eliza Farren', http://www.18thcenturycommon.org/life-mask-by-emma-donoghue-the-lawrence-portrait-of-eliza-farren/
Claire O'Callaghan, 'Re-claiming Anne Damer / re-covering Sapphic history: Emma Donoghue's Life Mask,' in The Female Figure in Contemporary Historical Fiction, ed. by Katherine Cooper and Emma Short (Palgrave, 2012), 134-52
Stacia Bensyl, 'Emma Donoghue's Life Mask: Post 9/11 Rhetoric and Lesbian Identity', in Sapphists and Sexologists: Histories of Sexualities, Volume 2, ed. by Sonja Tiernana and Mary McAuliffe (2009), pp.41-56
Eibhear Walshe, ' "A Different Story to Tell": The Historical Novel in Contemporary Irish Lesbian and Gay Writing', in Facing the Other: Studies of Race, Gender and Social Justice in Ireland, ed. by Borbála Faragó and Moynagh Sullivan (2008), pp.137-50.
Eibhear Walshe, 'Queering History: Contemporary Irish Lesbian and Gay Writing,' in Re-Writing Boundaries: Critical Approaches in Irish Studies (Barcelona: Promociones y Publicionaes Universitaries, 2007), http://cora.ucc.ie/bitstream/handle/10468/450/EW_QueeringAV2007.pdf?sequence=1 Reads Life Mask against Colm Tóibín's The Master.