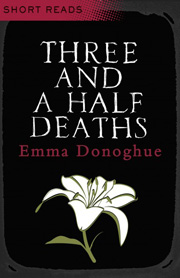 Three and a Half Deaths(UK/Ireland ebook, 2011).An accident, a suicide, an act of criminal negligence and a near-death experience. Published by Picador as a Short Reads ebook in December 2011, bringing together four fact-inspired stories from France, the USA and Canada.
'What the Driver Saw' is inspired by a freak accident on Nice's Promenade des Anglais, the 1920s equivalent of Princess Diana's last ride through Paris.
'The Trap' takes us to New York in the 1870s, when a woman at the centre of a public scandal decides she's had enough.
'Sissy', inspired by the discovery of a pioneer coffin in London, Ontario, is about the lingering effects of a death on the living.
'Fall' explores an incident at Niagara Falls in 1901 when a middle-aged schoolteacher staked her future on an act so daring it could be called suicidal.
A personal note: Although I wrote this little book, and am delighted by the experiment, I must confess that haven't read it – because I still do my reading the old-fashioned way, on paper. Three and a Half Deaths brings together four stories that didn't quite fit into Astray (with its focus on travel) but share the fact-mixed-with-fiction approach of both Astray and The Woman Who Gave Birth to Rabbits.
To buy Three and a Half Deaths:
https://www.panmacmillan.com/authors/emma-donoghue/three-and-a-half-deaths/9781447213048