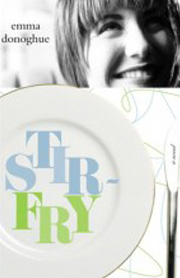 Stir-fry (1994) My first novel, Stir-fry is a coming-of-age story about Maria, a seventeen-year-old girl from rural Ireland who goes to university in Dublin and accidentally moves in with a lesbian couple. A Lambda Literary Award finalist.
A personal note:Apart from the University College Dublin setting circa 1989, Stir-fry has little of my life in it; I was interested in exploring how someone who lacked my own clarity and confidence might wander, even stumble, into questioning her sexual identity. The infinitely generous agent who took me on at 21, and has stood by me to this day – Caroline Davidson – put me through seven drafts, and kept my spirits up through endless rejection letters, before she managed to get me a two-book deal on both sides of the Atlantic. It's a sign of how new I was to writing fiction that I changed the ending of Stir-fry completely in the last draft, after a friend pointed out that there was in fact much stronger chemistry between two other points in the human triangle. Then I tried to have the novel pulled just before publication, wanting to start my career with Hood instead, but my wise editor – the late Kate Jones at Hamish Hamilton – talked me down, promising me that Stir-fry, although slighter in some ways, would offers readers just as much pleasure.
Reviews
'With this clever, interesting and very assured first novel Donoghue has put down a marker for the so-called New Ireland.' – Times
'This evocative and insightful novel is destined to become a classic in lesbian literature.' – Village Voice
To buy Stir-fry

In the UK/Ireland/Australia, ebook: http://www.panmacmillan.com/book/emmadonoghue/stirfry?format=978144724812501
or audio: https://thereadinghouse.co.uk/products/stirfry-by-emmadonoghue
In Canada, paperback: http://harpercollins.ca/books/Stir-Fry-Emma-Donoghue/?isbn=9781443422604
or ebook: http://harpercollins.ca/books/Stir-Fry-Emma-Donoghue/?isbn=9781443422611
Translations
A feu vif (Paris: Engrenage, 2013)
Geroerd (new translation, Mouria, 2011)
Zartes Gemuse, Scharf Gewurzt (Dusseldorf: Econ, 1996)
Un Buen Salteado (Barcelona-Madrid: Egales, 2003)
Stir-fry (Milan: It Dito e La Luna, 2007)
Bibliography
José Carregal, Queer Whispers: Gay and Lesbian Voices of Irish Fictions (University College Dublin Press, 2021), Ch 6 '"The room feels warmer when you're in it": Lesbian Relationships in Emma Donoghue's Contemporary-Set Novels' (pp.101-17)
Anna Charczun, Irish Lesbian Writing Across Time: A New Framework for Rethinking Love Between Women (Peter Lang, 2021), pp. 145-220.
Anna Charczun, 'Can I Write About It Yet?: The Influence of Politics on Literary Representations of Lesbians in Irish Women's Writing,' in Sijis [Studi Irlandesi] 10 (2020): 43-62. Considers Stirfry, Hood and Landing.
Amy Finlay-Jeffrey, 'Towards a queer liminality: an examination of the use of space in Irish lesbian fiction 1872-2017', D Phil (Queens, 2020), pp.158-200
Carissa Foo (Yale - NUS College), 'On Female Hesitancy in Emma Donoghue's Stir-Fry and Hood,' paper delivered at IASIL (Singapore 2017).
Amy Finlay (Queen's University, Belfast), 'The Queer Body in Emma Donoghue's Irish Closet', paper delivered at Talking Bodies conference (Chester, 2015).
Emma Young, ''No Place like Home: Re-writing "Home" and Re-locating Lesbianism in Emma Donoghue's Stir-Fry and Hood,' Journal of International Women's Studies, 14(4), 2013, 5-18, http://vc.bridgew.edu/jiws/vol14/iss4/2
Linden Peach, Contemporary Irish and Welsh Women's Fiction: Gender, Desire and Power (Cardiff: University of Wales Press, 2007), 45-51.
Eibhear Walshe, 'Emma Donoghue, b. 1969', in Anthony Roche, ed. The UCD Aesthetic: Celebrating 150 Years of UCD Writers (Dublin: New Island, 2005), 274-84. Insightful analysis of triangles in Stir-fry.
Linden Peach, The Contemporary Irish Novel: Critical Readings (New York: Palgrave, 2004), 106-15. Peach's excellent analysis is marred only by his assumption that Stir-fry is set in the 1960s, rather than the late 1980s – but then, Ireland in the 1980s did feel at least twenty years behind the rest of the West.
Moira E. Casey, "The Literary Heritage of Emma Donoghue's Stir-fry and Hood", paper delivered at BSIS conference (University of Liverpool, 2004).
Moira Casey, 'The lesbian in the house: Twentieth-century Irish lesbian fiction' [deals with Stir-fry and Hood], PhD University of Connecticut 2003 https://opencommons.uconn.edu/dissertations/AAI3078039/
Yolanda González Molano, 'De/Transforming Ireland : Lesbian Identity in Emma Donoghue's Stir-fry', in Ana Antón-Pacheca et al, ed. Estudios de la mujer en el ámbito de los paises de habla inglesa (Madrid: Universidad Complutense de Madrid, 1998).
Jennifer M. Jeffers, The Irish Novel at the End of the Twentieth Century: Gender, Bodies and Power (New York: Palgrave, 2002), 90-99.
Christina Hunt Mahony, Contemporary Irish Literature: Transforming Tradition (Basingstoke, Hampshire: Palgrave Macmillan, 1998), 265-67.
Gerry Smyth, The Novel and the Nation: Studies in the New Irish Fiction (London: Pluto, 1997).
Charlotte Innes, 'Rhymes With Pariah,' Lambda Book Report No. 28, 1994
Sara Dunn, 'Stirring Stuff,' Time Out, 13 February 1994
Michele Roberts, 'Take Three Girls,' Sunday Times, 13 February 1994
Eileen Battersby, 'New Tastes in a New World,' Irish Times, 22 January 1994
Joe O'Connor, 'A Sturdy Grip on the Literary Ladder,' Sunday Tribune, 2 January 1994