Kissing the Witch (2000).
My third full-length play, an adaptation of five of the thirteen stories from my fairy-tale book of the same name (1997), was commissioned by San Francisco's Magic Theatre.

Cast: three women, one man.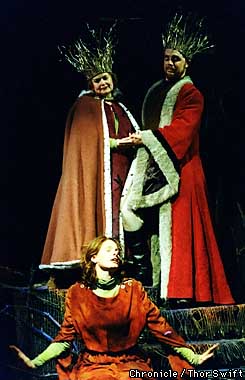 Kissing the Witch at the Magic Theatre, photo (c) Thor Swift, 2000

PUBLICATION
Kissing the Witch is published in Emma Donoghue: Selected Plays (London: Oberon Books, 2015).
PRODUCTIONS
Magic Theatre, San Francisco, directed by Kent Nicholson, 2-25 June 2000. (World Premiere)
University of Akron, Ohio, directed by Rebecca P. Vojanov, 2000.
HAG Theatre, Buffalo, directed by Margaret Smith, 9-24 February 2001.
Suisun Harbor Theatre, California, directed by Jackie S. Hill, produced by SCT, 14-23 June 2001.
Buddies in Bad Times, Toronto, directed by Elley Ray Hennessy, produced by Wicked Women Co-op (BANG! Productions), 14-31 March 2002. (Canadian Premiere)
Access Theatre, NYC, directed by Marcus Geduld, Folding Chair theatre, 4-28 October 2012. (NYC Premiere)
Ubiquitous Theater, Ypsilanti Michigan, April 19-21 2018.
The Corps Ensemble, Dublin, 29 October - 9 November 2019 (European Premiere).
Whitman College, Walla Walla, Washington, 2-4 March 2023.
Corrib Theatre, Portland, Oregon, June 2022.
University of Adelaide Theatre Guild, 10-20 August 2023.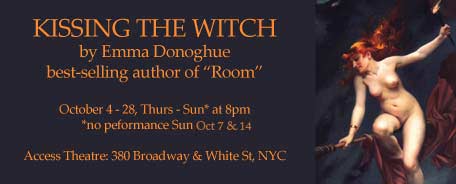 Poster, Folding Chair Theatre, 2012
REVIEWS
'Clever entertainments... Donoghue's sheer psychological intelligence and inventive language takes centre stage... The show captures the celebratory and riotous, fun aspects of feminism.' - Irish Independent
'Women's lives flow together in Donoghue's fantasia. ... The glittering blade of Donoghue's language remains the show's strongest instrument. Smart, cynical aphorisms glitter brightly; so do innocent bits of wonder.' - SFgate.com
BIBLIOGRAPHY
'From Page to Stage in Style', Bay Area Reporter (San Francisco), 8 June 2000.
Steven Winn, 'Magic's 'Witch' Spells Out Women's Hard Journeys: Emma Donoghue's Reworked Fairy Tales Are Enchanting,' http://www.sfgate.com/entertainment/article/Magic-s-Witch-Spells-Out-Women-s-Hard-Journeys-3239137.php
Katy Hayes, 'Kissing the Witch: Stylish Production Makes Feminist Fairytales a Lot of Fun', Irish Independent, 2 November 2019.