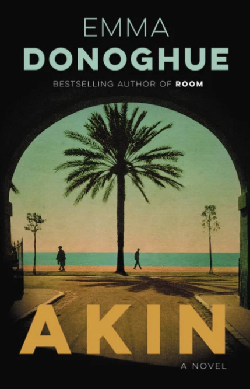 Akin (New York: Little Brown; Toronto: HarperCollins Canada; London: Picador, 2019).
A tale of love, loss and family, in which a retired New York professor's life is thrown into chaos when he takes his great-nephew to the French Riviera, in hopes of uncovering his own mother's wartime secrets. Noah is only days away from his first trip back to Nice since he was a child when a social worker calls looking for a temporary home for Michael, his eleven-year-old great-nephew. Though he has never met the boy, he gets talked into taking him along to France. This odd couple, suffering from jet lag and culture shock, argue about everything from steak haché to screen time, and the trip is looking like a disaster. But as Michael's ease with tech and sharp eye help Noah unearth troubling details about their family's past, both of them come to grasp the risks that people in all eras have run for their loved ones, and find they are more akin than they knew.
Donoghue's twelfth novel (and sixteenth book of fiction) is her first contemporary one for adults since Room. It was a bestseller in Canada and Ireland and an Indigo, New York Post, The Listener and Good Housekeeping Best Book of the Year as well as being shortlisted for the Guardian's Not the Booker Prize.

A personal note: Akin is my only book to grow out of a particular place: it's inspired by the two years (2011-12 and 2015-16) I spent with my French partner and our children in Nice. Despite having a degree in French and English, over the decades I've consistently failed to become fluent in French, so this novel is a sort of apologetic love-letter to the country that intrigues me so deeply, where I will always be a stranger. I chose New York as the place where Noah's family would end up not only because it was an obvious choice for people involved in the art world, but because my father the literary critic Denis Donoghue taught at NYU from the late seventies to the early 2010s, and the one year I spent in that city at the age of nine was eyeopening in every way.
The story of Noah's mother was prompted by the wartime experiences of Marguerite Matisse Duthuit, daughter to the painter who lived in Nice for so long, which I learned about in Hilary Spurling's extraordinary biography Matisse: The Life. But I decided to make Noah's grandfather a photographer instead, because that could be called the key twentieth-century art form, and because photographs (pre-digital) have such uncanny power as evidence. My image-maker friend Margaret Lonergan created some of Margot's photos for me to include in the book, as well as designing the cover from a 1930s shot of the Promenade des Anglais by Swiss photographer Martin Hürlimann.
To buy Akin:
In the US
https://www.littlebrown.com/titles/emma-donoghue/akin/9780316491983/
In Canada
https://www.harpercollins.ca/9781443458948/akin/
In the UK
https://www.panmacmillan.com/authors/emma-donoghue/akin/9781529019964
on audio: https://thereadinghouse.co.uk/products/akin-by-emmadonoghue?_pos=10&_sid=7edcf9ef4&_ss=r
Wherever you live, PLEASE support your local indie bookstore by buying from them either directly or through an indie-friendly hub such as bookshop.org or hive.co.uk.
Translations
Akin is forthcoming in Polish, Hungarian and Swedish.
Reviews
'Soul-stirring' - O Magazine
'Donoghue nails not only the class differences but the generational impasse: the adult who cannot grasp the extent to which society has broken; the child who has never known it to be otherwise. ... What begins as a larky story of unlikely male bonding turns into an off-center but far richer novel about the unheralded, imperfect heroism of two women — Michael's incarcerated mother and Noah's long deceased one — and the way we preserve the past and prepare for the future.' New York Times
'If "Room" was a horror novel laced with sweetness, "Akin" is a sweet novel laced with horror. ... continuously charming. ... Donoghue, a mother herself, has a perfect ear for the exasperated sighs of preteens. Noah can't understand why Michael would rather stare at his phone than enjoy one of the world's most beautiful cities. All his attempts at conversation are hilariously awkward, an excruciating transcript of impatience, misunderstandings, missed intentions ... But Donoghue doesn't just play it for laughs — or sentimentality. ... "Akin" is true to the quiet investment of time needed to win a child's trust. The movement here is the slow accrual of affection. ...For us, the reward stems from Donoghue's ability to wring moments of tenderness and comedy from this mismatched pair of relatives.' - Washington Post
'Donoghue has an uncanny way of writing about children ... such a fluid, lovely writer.' - Seattle Times
'Highly emotional but never sentimental.' - Vogue
'A wise, warm tale. ... Emma Donoghue has written the perfect novel to ease the transition from beach reads to the traditionally more serious issue-driven books of fall. ... in France, the novel soars.' - Minneapolis Star Tribune
'Donoghue lets off the gas just enough for the characters to connect in a way that doesn't feel sappy. ... Through Donoghue's well-crafted writing, we see the points where, though the two flawed protagonists are generations apart, their stories overlap and converge; she lightly touches on a more universal concept of how our ancestry and history inform the people we are today.' - Salon.com
'With her characteristic storytelling brio, Donoghue sets up a fraught situation with multiple unresolved issues ... keeps sentimentality to a minimum and deftly maintains a suspenseful plot. ... Donoghue's realistic portrait of Michael includes enough rudeness and defiance to make the pair's progress toward détente bumpy and believable. The story of Noah's mother turns out to be more complicated and even sadder than he had feared, leading to a beautiful meditation on how we preserve the past as we prepare for the future. Noah and Michael, humanly flawed and all the more likable for that, deserve their happy ending. ... readable, well crafted, and absorbing.' - Kirkus
'Donoghue nestles a quiet mystery in the growing relationship between two different family members… Readers interested in World War II or family drama will find this a fascinating read.' - Library Journal
'Another winner… psychological and intense.' - Shereads.com
'Setting the story against the compelling backdrop of the annual Carnaval de Nice, Donoghue shines in her careful study of this slice of WWII history in France. ... engaging and pleasing ... Donoghue builds unabashedly to a heartwarming conclusion. ... Michael's wide-eyed and guardedly cynical point-of-view will amuse and entertain YAs.' - Booklist
'A very satisfying denouement.' - Publishers Weekly
'Captivating' - Christian Science Monitor
'Paints a vivid picture' - Entertainment Weekly
'A quiet story in a lovely setting.... Ms. Donoghue charts this developing relationship with sensitivity that never liquifies into sentimentality. Our understanding of these two characters remains clear-eyed, grounded in respect for their differences and concern for their vulnerabilities'. - Pittsburgh Post-Gazette
'Poignant and hopeful, the bestselling novelist of Room has delivered another exquisite portrayal of an adult and child making their way in the world.' - Woman & Home
'In Donoghue's sure hands, both Noah and his snarky charge are immediately distinctive, their voices clear. ... With Michael, finally, relaxing in his company, Noah, perhaps for the first time, faces the future with clarity. He may even be learning to appreciate life once again, a reawakening the author depicts beautifully.' - Boston Globe
'Donoghue's story-telling skills are in fine form in her new, quick-paced novel ... Although Donoghue's lively tale has many attractions, its most appealing is the repartee between uncle and nephew, crisp, peevish exchanges which underscore the gulfs which exist between generations ... Donoghue's sparkling story is both inventive and thought-provoking.' - London Free Press
'Donoghue again demonstrates her facility for tension-ridden storytelling and unusual empathy.' Now Magazine
'Donoghue's writing is as lush as it is clear-eyed; her characters and settings emerge in richly detailed prose, but there's never a word out of place.... In the hands of a lesser writer, their strained relationship might induce eye rolls, but Donoghue is adroit enough to avoid any common pitfalls. Noah's and Michael's emotional arcs never feel manipulative or contrived but always well earned. Their dialogue (mildly cringe-worthy slang aside) is consistently well crafted, smart, and funny.... Akin raises questions that are just as much in need of answers today as they were 75 years ago: as the story unfolds, Donoghue deftly explores the moral and ethical obligations of resistance, the dangers of passivity, and whether survival is ever a reason or excuse for collaboration. With some clever allusions to contemporary political issues, Noah's family history becomes a lesson in history repeating itself. Yet somehow Akin manages never to feel preachy or allegorical; it relates past to present without making readers feel they're being condescended to. .... The pacing is tight enough that the story never drags, but narrative tidiness never comes at the expense of vibrancy or detail. The descriptions of carnival-season Nice alone are worth the price of admission, and Noah and Michael's intergenerational relationship has a depth and sweetness to it that feels rare in contemporary fiction. Donoghue's ability to spin a story is masterful, and Akin is engaging and very readable.' - Quill and Quire
'Catches you from the first page and Donoghue proves she's a master at dialogue that propels the story forward and creates characters you really care about.' - Toronto Star
'A quietly delightful read, perfectly calibrated for deep enjoyment. ... Akin will satisfy Donoghue-ites just as much as her previous best-sellers. It succeeds, you see, because it just does so many things right, a melody that's pleasing simply because there are no off notes. ... Her portrayal of an 11-year-old in particular is almost note perfect – an equal combination, I surmise, of Donoghue's enduring fascination with the inner lives of children (a topic that has preoccupied her in nearly everything she's written, including her children's fiction) and the fact that she's a parent herself. You don't get the cadence and vocabulary of a 2019 tween this bang-on without having spent a lot of time with them. Crucially, Donoghue crafts a believable bond between Noah and Michael. They're an odd couple, sure, separated by generation, class and an ability to comprehend selfies, but this funny pair grow genuinely fond of each other. Just as I think you will of them.' - Globe and Mail
'A touching, keenly observed novel ... for all the brilliance in Donoghue's mismatched pair (every time we might be tempted to find Michael slightly annoying, she's a master at showing us, and reminding us, that he's just a child raised with virtually no stability due to forces far beyond his control), the novel is at its strongest when it highlights the resemblances that unite Michael and Noah. ... Donoghue delivers a profound reflection on family secrets and the way they shape our current identities. Her profoundly human portrayal of Michael elicits a crucial form of empathy for the lives disrupted by the opioid crisis and raises questions on its impact on generations to come. All this makes Akin an important, touching novel that stays with you long after you're done reading it.' - The Independent
'Her spirited, highly accomplished new book ... As well as this fascinating slice of European history, 'Akin' offers a subtle, entertaining portrait of the relationship—and friction—between age and youth.' - The Economist
'A tender, mutually transformative trip... Donoghue is impressive at producing believable adn often funny dialogue. ... There is a lyrical, mesmerizing quality to the storytelling. ... it is the complex and soulful characters Donoghue creates that are most memorable.' - Times Literary Supplement
'What starts as a trip down memory lane turns into a mystery that teaches us about the complicated nature of past and present heroism. The sharpest observations, like all good mysteries, are hidden away... In lesser hands, the central story-line with its odd-couple overtones could be either overtly sentimental or horribly saccharine, but Donoghue has always been particularly acute at capturing the reality of childhood, and is careful never to sugar-coat either Noah or Michael's experiences - i news
'Spans continents and centuries... a delightful evocation of love beyond death.' - The Times
'This bleak history is leavened by the comedy and pathos... delicate and moving ' - Harper's Bazaar
'A neat comedy of errors... life-affirming... a crowdpleasing big heart' - Sunday Times
'Donoghue excels in revealing how their immediate differences in fact mask a touching similarity. The deadpan repartee between Noah and Michael keeps her portrait of their relationship from edging into schmaltz'. - Financial Times
'If this book demonstrates Donoghue's range as an author – and it does, in spades – it also shows her circling back to a handful of key concerns. In Akin, she has found a way to consider the subjects of love, freedom and family from a freshly illuminating perspective. ... The path of the generational collision is a well-trodden one, but Donoghue dances along it with customary lightness. Thrown together against their will, as the pair travel around Nice they clash, talk at cross-purposes and ultimately learn from one another – but Donoghue is far too wise to force them into an unearned happy ending. ... If Room forced home truths on us, about parenthood, responsibility and love, Akin deals with similar subject matter more subtly, but in the end just as compellingly; like Noah and Michael, the books are superficially different, but fundamentally connected. This is a quietly moving novel that shows us how little we know one another, but how little, perhaps, we need to know in order to care. - The Guardian
A Before Sunrise of the literary world, with the same unfolding of family secrets and a blossoming friendship ... The pace is gentle, yet the vividly drawn characters of Michael and Noah bring the book to life.For fans of the bleak intensity of Room, this may feel like a bit of light-hearted escapism, but scratch the surface and you will quickly discover it is just as keenly observed as its predecessor. - The Scotsman
There's some weighty stuff nimbly woven into this highly enjoyable novel — the Holocaust; the blighting effects of poverty; American police corruption. Yet it's consistently sprightly. The bickering and bantering of the sparring duo keeps things skipping along and Donoghue's fondness for her odd couple radiates winningly off the page. ... The scenario is intriguing and the finale touching - Daily Mail
'By turns heartwarming and humorous' - Radio Times
'Sweet, tender and defiantly unsentimental, this is a sad, funny look at how flawed, fragile people develop a sense of belonging.' - Psychologies
'Retains the same bitter, tender reflections on family that shone through in Room ... Sharply focussed with glimpses of a heroic history juxtaposed against a failing social system in the present day, Akin is a novel which will force you to consider what family really means.' - 4/4 stars, The Skinny
'Donoghue is superbly good at portraying children... Michael... is an utterly convincing character. Akin hinges, beautifully, on the gentle, agonised thawing of Michael and Noah's relationship.... Akin is gripping. Its serene readability disguises great depths of feeling and thought. Donoghue handles weighty themes (class, love, history, the politics of storytelling) with enormous dexterity. Akin proves, if proof were needed, that she is still one of contemporary fiction's best and most perceptive storytellers.'- Sunday Business Post
'A triumph of ambition... Akin's scope is expansive and straddles whole decades, oceans and generations. Another triumph in ambition for Donoghue, in other words... Donoghue's keen ability to find tenderness in tragedy has never been in doubt in previous works, and here her powers of observation are at full pelt. Although NOah and MIchael's mysterious backstories eventually come to light, Akin is primarily a character study, and a deep psychological dive into their odd dynamic. It says much about generational differences, not to tmention the vast drama and complexity that can be found in a single family tree. ... Donoghue has always written youngsters with a careful hand, and here she adds humour and quickfire wit into the mix. ... With every passing novel Donoghue widens out her stylistic palette, and Akin sees the writer manage a fine balance between sentimentality and lightness, without resorting to anything mawkish.'- Irish Independent
'For her next literary trick, she does not disappoint... As the rather well-weaved plot gathers moentum, it juxtaposes two family mysteries... the extended generational plots that develop through the novel are complex and deeply moving, exploring how our family histories often affect teh fates of unfolding generations. Akin sparkles with Donoghue's clear, often witty style. ... Donoghue's crafted combination of historical context and current social issues make her book compelling and important, as well as delivering a well-paced and intelligent read.' - Irish Times
'Thanks to this riddle which pervades the novel, and the double act that powers it, proceedings are deeply absorbing and incredibly poignant.' - The National (UAE)
'It might be wondered if yet another novel could squeeze anything original out of the subject [World War II], but then along comes Emma Donoghue... Donoghue tells her story wryly, with realism and compassion... Throughout the book is evidence of Donoghue's deft craft. AKIN is woven like a basket. It is also beautifully expressed.' - The Australian
'A charming journey of discovery... Donoghue is a wonderful writer and the book is full of charm, nuance and a strong sense of place... Noah's self-awareness and old-world academic humour are delightful and the combination of his clumsy attempts at conversation, alongside Michael's grumpy vulnerability, is moving. They both feel utterly true ... Akin is a deceptively deep, character-driven novel more about people and place than plot. The writing, humour and humanity will remain with you, as will the questions it asks.' - Sydney Morning Herald
Extras
A trailer for Akin from HarperCollins Canada
https://www.cbc.ca/books/watch-the-trailer-for-emma-donoghue-s-next-novel-akin-1.5235168
Interview by Shelagh Rogers on CBC's The Next Chapter https://www.cbc.ca/radio/thenextchapter/full-episode-nov-23-2019-1.5365298/why-emma-donoghue-wanted-to-write-about-family-generation-gaps-and-the-legacy-of-ww-ii-in-her-latest-novel-1.5365300
https://www.waterstones.com/blog/the-waterstones-interview-emma-donoghue
BIBLIOGRAPHY
Ron Charles, 'Emma Donoghue's Akin sends an odd couple to France', Washington Post, 10 September 2019, https://www.washingtonpost.com/entertainment/books/emma-donoghues-akin-sends-an-odd-couple-to-france/2019/09/10/373679d6-d3ce-11e9-9610-fb56c5522e1c_story.html
Tanya Sweeney, 'Odd couple drama is a triumph of ambition for Room writer', Irish Independent, 5 October 2019, https://www.independent.ie/entertainment/books/book-reviews/akin-by-emma-donoghue-odd-couple-drama-is-a-triumph-of-ambition-for-room-writer-38560780.html
Helena Mulkerns, 'Akin: sparkles with Donoghue's clear, often witty style, Irish Times, 11 October 2019, https://www.irishtimes.com/culture/books/akin-sparkles-with-emma-donoghue-s-clear-often-witty-style-1.4030094?mode=sample&auth-failed=1&pw-origin=https%3A%2F%2Fwww.irishtimes.com%2Fculture%2Fbooks%2Fakin-sparkles-with-emma-donoghue-s-clear-often-witty-style-1.4030094