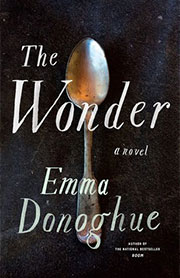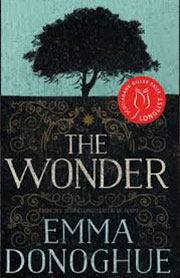 The Wonder (New York: Little Brown; Toronto: HarperCollins Canada; London: Picador, 2016). The Irish Midlands, 1859. An English nurse, Lib Wright, is summoned to a tiny village to observe what some are claiming as a medical anomaly or a miracle - a girl said to have survived without food for months. Tourists have flocked to the cabin of eleven-year-old Anna O'Donnell, and a journalist has come down to cover the sensation. The Wonder is a tale of two strangers who transform each other's lives, a psychological thriller, and a story of love pitted against evil.
Donoghue's ninth novel – her first historical one set in her homeland of Ireland - was a bestseller in Canada even before publication, and was shortlisted for the Giller Prize there, as well as for Ireland's Bord Gáis Energy Eason Novel of the Year and Kerry Group Novel of the Year. It was a nominee for a Shirley Jackson Award (for the literature of psychological suspense, horror, and the dark fantastic) as well as a Medici Award for book-club favourites.

Donoghue has adapted (with director Sebastián Lelio and Alice Birch) The Wonder into a feature film with Element Pictures (with whom she made Room) and House Productions, coming from Netflix in 2022.

A personal note: I came across the Fasting Girl phenomenon back in the mid-1990s - so long ago that I can't even remember where I first read about these girls and young women (and very occasionally older women or men). I was instantly intrigued by these cases, which seemed to echo medieval saints starving as an act of penance, and also modern anorexics, but weren't exactly the same as either. It seemed to say a lot about what it's meant to be a girl - in many Western countries, from the sixteenth century right through to the twentieth - that these girls became celebrities by not eating. But I never found one real case that rang that little bell in me, telling me this was the story I had to tell in a novel. Some were too tragic, even for a writer with my dark tastes; Sarah Jacob, for instance, a little girl who died while being 'watched' by nurses in 1869. Some were low comedy, such as the case of Ann Moore, exposed as a cheat in 1813. Finally it occurred to me that if I was still so fascinated by the Fasting Girls, two decades on, I should drop my usual method of writing a historical novel based on a real case, and let myself invent a story. I'd set it in Ireland, of course - not just because that's my homeland, but because ever since the Great Famine of the 1840s, we've defined ourselves as a people intimate with hunger.
Extras

Carey Mulligan reads The Wonder for BBC Radio 4's Book at Bedtime: http://www.bbc.co.uk/programmes/p047cd0w
Emma Donoghue interviewed by Alan Neal for CBC's All in a Day, 28 Sept 2016,
http://www.cbc.ca/news/canada/ottawa/programs/allinaday/emma-donoghue-s-book-the-wonder-nominated-for-a-giller-1.3782831
Emma Donoghue interviewed by Scott Simon on NPR, http://www.npr.org/2016/09/17/494360267/emma-donoghues-new-novel-the-wonder
Eliza Haughton-Shaw, 'Interview: Emma Donoghue on writing hunger', https://www.thelondonmagazine.org/interview-emma-donoghue-on-writing-hunger/
To buy The Wonder:

In the US: http://www.hachettebookgroup.com/search/?q=donoghue+wonder
In Canada: http://www.harpercollins.ca/9781443450027/the-wonder
In the UK/Ireland/Australia/'Commonwealth': https://www.panmacmillan.com/authors/emma-donoghue/the-wonder
on audio: https://thereadinghouse.co.uk/products/thewonder-by-emmadonoghue?_pos=8&_sid=7edcf9ef4&_ss=r
Wherever you live, PLEASE support your local indie bookstore by buying from them either directly or through an indie-friendly hub such as bookshop.org or hive.co.uk.
Translations
The Wonder is out or forthcoming in Italian, Slovak, Polish, Danish, Greek, Czech, Swedish, Lithuanian, Croatian, Bulgarian, Macedonian, Turkish, Hebrew, Vietnamese, Chinese (simplified characters), Korean, German, Hungarian, Portuguese (Portugal), Portuguese (Brazil), Romanian, Russian, Arabic, Thai, and Spanish.

Reviews

'In Donoghue's case the point of combining fact and invention is profoundly subversive. The Wonder is a narrative vortex in which the old authority of religion and the new authority of science are simultaneously shattered. … Donoghue excels at dialogue. In The Wonder passages of direct speech are connected by an economical and sly third-person narrator…. Instead of moralizing, Donoghue dramatizes the anorexic's ability to impose an obsession with food on others. … Both novels [Room and The Wonder] are extreme thought experiments, probing the pared-down resources of human character.' - New York Review of Books
'These rooms of Donoghue's may be tiny and sealed off, yet they teem with life-and-death drama and great moral questions. Hesitant readers may think that they'd rather lose themselves in stories with a larger sweep, a little more air; but Donoghue does so many intricate things within these small spaces of hers that, for a time, they become the most compelling places to linger. What was it that the poet William Blake said about seeing "a World in a Grain of Sand . . . ?" Something of that kind of mystic expansion happens in Donoghue's rooms. … Donoghue manages to engage these larger mysteries of faith, doubt and evil without sacrificing the lyricism of her language or the suspense of her story line. Anna may or may not be a genuine "living marvel," but "The Wonder" certainly is.' – Washington Post

'We can count on her to plumb the heart of human darkness… [a] blaze of romance and drama.' - Newsday

'Donoghue is a master of plot, and her prose is especially exquisite in depicting ambiguity. …In The Wonder, Gospel-like in its concern with adversity and hope, miracles are possible–perhaps through God, perhaps through woman.' – Time

'Donoghue's main purpose here is story, story, story, and God bless her for it… The Wonder is a fine, fact-based historical novel, an old-school page turner (I use the phrase without shame.) Donoghue's grave consideration of the damage religion can do when it crosses the line into superstition lifts that narrative rather than weighing it down.' – Stephen King, New York Times Book Review

' "The Wonder" is a marvel, a rarity in contemporary fiction, an alchemist's miracle in which page-turner, love story, historical romance, mystery and serious social criticism all blend together to form something more fascinating and beautiful than the sum of what could have been the bland various parts.…

"The Wonder," her ninth novel, makes the reader's heart pound without a gunshot or a gang war. The novel has the kind of haunting quality that keeps drawing you back from the call of the world.' - New York Times

'Heartbreaking and heartwarming.'- The Virginian-Pilot

'Donoghue excels at the microcosm, and her obsessive interest in rooting out the truth makes for a compulsive read. A war is being waged in Anna's tiny bedroom, and its combatants stand for sides not narrowly confined to the Victorian era: science versus faith, progress versus tradition, rich versus poor.' – San Francisco Chronicle

'A fable as lean and discomfiting as Anna's dwindling body. … its near-claustrophobic economy makes it hard to put down.' – Chicago Tribune

'A rich Irish bog of religion and duty and morality and truth. … deliciously gothic — … full of claustrophobic intensity and suspense. …its dramas and details are sharply unique. Dark and vivid, with complicated characters, this is a novel that lodges itself deep.' – USA Today

'A fine work, adept and compelling in voice, plot, and moral complexity.' – Boston Globe

'The Wonder unfolds a cagey, suspenseful stand-off… Anna receives the author's full sympathies and is a lively, endearing foil to her incredulous nurse.' - Wall Street Journal

'In her deceptively straight-forward prose, Donoghue masterfully unravels a tense gothic page-turner in which nobody, including the unreliable nurse narrator, are entirely what they seem. A powerful exploration of religion and the sway it holds, The Wonder is equal parts psychological drama and unorthodox love story. A thoroughly enjoyable read from one of the country's premier storytellers.' – Toronto Star

'As gripping and intense as the popular Room … The prose is so intensely alive, so cinematic that you can truly see the action unfolding before your eyes … an engrossing psychological thriller [and] near-perfect novel.' – Ottawa Citizen

'Donoghue draws out the narrative suspense with her customary combination of historical verve and emotional delicacy… Like Room, this is a thrilling domestic psychodrama that draws its power from quotidian detail as well as gothic horror' - The Guardian

'The Wonder explores 19th-century rural Ireland with great passion: the profound faith, prayer, superstition, ritual, corruption and collective madness of it all. … Donoghue is a superb stylist — her prose is stirring and tender, her period setting alive.' – Sunday Times

'Both an excoriating meditation on the malignant nature of fundamentalism … and a whodunit…. As with the best historical fiction – it is not about the past, but about the present.' – Financial Times

'Eerie… The reader is seduced by the suspense; compelled to pay as close consideration as the nurse in order to understand precisely what's going on … sets a superb pace' – Irish Times

'If the O'Donnells could serve as a metaphor for the whole, broken country, then Anna, too, serves as a metaphor for Ireland – starving yet surviving; clinging to her religion; hiding secrets from sight. … With Donoghue's readable prose and lightness of touch, we find ourselves both pausing for thought and racing forward to see what will become of Anna.' - Irish Independent
Bibliography
Maite Escudero-Alías, 'Estrangement and the Ethics of Attention in Emma Donoghue's The Wonder,' Estudios Irlandeses, March 2023, pp.54-66, https://www.estudiosirlandeses.org/2023/03/estrangement-and-the-ethics-of-attention-in-emma-donoghues-the-wonder/
Marisol Morales-Ladrón, 'Conspicuously Silent: The Excesses of Religion and Medicine in Emma Donoghue's Historical Novels The Wonder and The Pull of the Stars,' in Narratives of the Unspoken in Contemporary Irish Fiction (2023), pp.21-42, https://link.springer.com/chapter/10.1007/978-3-031-30455-2_2
Renée Fox (UC Santa Cruz), 'The Abuses of Genre, or Emma Donoghue's The Wonder, Undisciplined,' paper at Race, Violence, and Form in Nineteenth-Century Ireland Conference (Santa Cruz, 2023)
Sandra McKenna, 'Women's Bodies in Contemporary Literature: An Exploration of Two Novels by Emma Donoghue', M Phil (Trinity College Dublin, 2021). Discusses The Pull of the Stars and The Wonder.
Poulomi Modak, 'The Beast in the Closet: Interrogating the Trauma of Sibling Incest in Emma Donoghue's Neo-Victorian novel The Wonder', Rupkatha Journal on Interdisciplinary Studies in Humanities 13:4 (2021), 1-11
Libe García Zarranz, 'Thresholds of Sustainability: Cassils' and Emma Donoghue's Counter Narratives,' in On The Other Side(s) of 150: Untold Stories and Critical Approaches to History, Literature and Identity in Canada, eds Linda M Morra and Sarah Henzi (Wilfred Laurier University Press, 2021), Ch. 7, pp.108-123.
Rüta Slapkauskaitè, 'Ghost, host, hostage: a poet(h)ics of vulnerability in Emma Donoghue's The Wonder,' in European Journal of English Studies (Volume 24, 2020), Issue 3: Neo-Victorian Negotiations of Hostility, Empathy, and Hospitality, https://www.tandfonline.com/doi/abs/10.1080/13825577.2020.1876611?journalCode=neje20
Andrea O'Reilly, 'Redemptive Mothering: Reclamation, Absolution and Deliverance in Emma Donoghue's Room and The Wonder,' in Writing Mothers: Narrative Acts of Care, Redemption, and Transformation, ed. BettyAnn Martin and Michelann Parr (Bradford, ON: Demeter, 2020), pp.141-66
Carneiro, Oliveira, and Raphael Marco. 2019, 'The Wonder,' Interfaces Brasil/Canadá 19 (1): 143–148.
Molly Ferguson, "To Say No and No and No Again": Fasting Girls, Shame, and Storytelling in Emma Donoghue's The Wonder,' New Hibernia Review 22:2 (Summer 2018), 93-108
Yi-Peng Lai, 'History, Hunger, and the Construction of an Irish Homeland: Emma Donoghue's The Wonder and Mary Gordon's Pearl,' in Critique: Studies in Contemporary Fiction (2018)
Lin Elinor Pettersson, "Neo-Victorian Incest Trauma and the Fasting Body in Emma Donoghue's The Wonder," in Nordic Irish Studies Journal 16 (2017), 1-20.
Ruth Scurr, 'The Dreams and the Demons of Fasting,' The New York Review of Books, March 23 2017
Stephen King, 'Stephen King Reviews Emma Donoghue's Latest Novel,' New York Times Book Review, Sept 27, 2016, http://www.nytimes.com/2016/10/02/books/review/stephen-king-emma-donoghue-the-wonder.html?_r=0

Sarah Lyall, 'In 'The Wonder,' the Morality of Letting a Child Fast,' New York Times, Sept 18, 2016, http://www.nytimes.com/2016/09/19/books/emma-donoghue-the-wonder.html

Alexandra Schwartz, 'Emma Donoghue's Art of Starvation,' The New Yorker, Sept 19 2016, http://www.newyorker.com/magazine/2016/09/19/emma-donoghues-art-of-starvation

Maureen Corrigan, 'The Wonder': From the author of 'Room,' another tight, intense drama,' Washington Post, 23 September 2016, https://www.washingtonpost.com/entertainment/books/the-wonder-from-the-author-of-room-another-a-tight-intense-drama/2016/09/22/cc9980e0-80d4-11e6-b002-307601806392_story.html