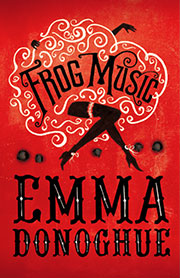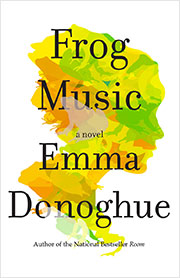 Frog Music (April 2014).
Summer of 1876: San Francisco is in the fierce grip of a record-breaking heatwave and a smallpox epidemic. Through the window of a railroad saloon, a young woman called Jenny Bonnet is shot dead. The survivor, her friend Blanche Beunon, is a French burlesque dancer. Over the next three days, she will risk everything to bring Jenny's murderer to justice – if he doesn't track her down first. The story Blanche struggles to piece together is one of free-love bohemians, desperate paupers and arrogant millionaires; of jealous men, icy women and damaged children. It's the secret life of Jenny herself, a notorious character who breaks the law every morning by getting dressed: a charmer as slippery as the frogs she hunts. In thrilling, cinematic style, Frog Music digs up a long-forgotten, never-solved crime. Full of songs that migrated across the world, Emma Donoghue's lyrical tale of love and bloodshed among lowlifes captures the pulse of a boom town like no other. This is Donoghue's eighth novel and twelfth book of fiction, an instant bestseller in Canada, Ireland, and a New York Times Bestseller. It was a Finalist in the 2015 Bisexual Book Award for Fiction, and an Honor Book in Literature (Stonewall Book Awards 2015). It has been optioned by Monumental Pictures, with Donoghue writing the screenplay.

A personal note: I've been wanting to write a novel about the murder of Jenny Bonnet since back in the late 1990s. When I finally found the time to get down to it, after Room, my decision to tell the whole story through the eyes of Blanche Beunon (in order to give Jenny a slippery, enigmatic quality) pushed the novel in a direction I hadn't been expecting: it became a sort of double hunt, for Jenny's killer and for Blanche's baby. But I still thought of Frog Music as the opposite of Room in that it's a dirty, messy, sticky-textured period drama – so I was startled by the first review pointing out that both novels hinge on a young woman's response to giving birth in desperate circumstances. I have to admit, I so enjoyed writing about a bad mother this time around. Frog Music is my first crime novel, meaning that I've written about crimes before, but have never till now offered the reader the particular satisfactions of a mystery with a solution. It can also be placed with my other fictions about emigration – Landing and Astray – as well as being an obvious companion piece to Slammerkin, even if it offers a very different angle on the sex trade.
To buy Frog Music
In the US, hardback: http://www.hachettebookgroup.com/titles/emma-donoghue/frog-music/9780316324687/
or ebook: http://www.hachettebookgroup.com/titles/emma-donoghue/frog-music/9780316324663/
or audio: http://www.hachettebookgroup.com/titles/emma-donoghue/frog-music/9781478927068/
In the UK/Ireland/Australia: http://www.picador.com/books/frog-music
on audio: https://thereadinghouse.co.uk/products/frogmusic-by-emmadonoghue?_pos=1&_sid=7edcf9ef4&_ss=r
In Canada, hardback: http://harpercollins.ca/books/Frog-Music-Emma-Donoghue/?isbn=9781443429115
or ebook: http://harpercollins.ca/books/Frog-Music-Emma-Donoghue/?isbn=9781443429146
Wherever you live, PLEASE support your local indie bookstore by buying from them either directly or through an indie-friendly hub such as bookshop.org or hive.co.uk.
TRANSLATIONS
Frog Music is available in French, Dutch, Hungarian and Polish.
REVIEWS

'A riveting literary thriller revolving around a brief, unlikely friendship that ends with one dead and the other transformed.' - O, The Oprah Magazine
'Alive, brimming with sin and music' – New Yorker
'Heartfelt, affecting, and real.' – Chicago Tribune
'A lush diorama… flashbacks fit into an unsettling whole that demands an immediate reread.' – Reader's Digest
'With Frog Music, a literary crime novel fixated on human darkness, Donoghue proves herself endlessly inventive.... This is the kind of book that will keep you up at night and make you smarter.' - Cosmopolitan
'Frog Music keeps us captivated because Donoghue has filled the foreground and background of this wild tale with irresistibly captivating characters….First-rate historical fiction.' - The Washington Post
'The city, still reeking of the Wild West, is itself a wondrous character here….Most fascinating is the story of Blanche, who evolves from an immature girl, appalling mother and browbeaten lover to a woman of strength and soul.' - People
'Donoghue flawlessly combines literary eloquence and vigorous plotting in her first full-fledged mystery, a work as original and multifaceted as its young murder victim. … In language spiced with musical interludes and raunchy French slang, Donoghue brings to teeming life the nasty, naughty side of this ethnically diverse metropolis … she not only posits a clever solution to a historical crime that was never adequately solved but also crafts around Blanche and Jenny an engrossing and suspenseful tale about moral growth, unlikely friendship, and breaking free from the past.' - Booklist (starred review)
'Donoghue's first literary crime novel is a departure from her bestselling Room, but it's just as dark and just as gripping…Donoghue's signature talent for setting tone and mood elevates the book from common cliffhanger to a true chef d'oeuvre.' - Publishers Weekly (starred review)
'Very, very good. Not in the same scared-to-turn-the-page way as Room, but equally as deep, thought-provoking and complex.' - Library Journal
'Ebullient mystery… Donoghue cross-cuts between Blanche's desperate present-time search and scenes from her Technicolor past with showstopping aplomb. … Call it a mind-bendingly original crime novel, or a dazzling historical mystery, but in the end, this is a really a book about love - a mother's love for a strange child, for an exotic friend and finally, for herself.' - San Francisco Chronicle
'Far more intriguing than a mere whodunit and brought fabulously alive by rich period detail… thoroughly entertaining' – New York Daily News
'Rich hauls of historical research, deeply excavated but lightly borne… The action steams down these time-split twin tracks, artfully mirroring the play of the author's contemporary sensibility over an era long past…. Combustible' – Wall Street Journal
'Emma Donoghue's latest novel has many facets, all of them fascinating…. Donoghue is acrobatic with her storytelling and language… will keep you riveted as you make your way through this vibrant and remarkable novel' –Miami Herald
'Literary alchemy… This is a book to cherish, to share with your friends and book clubs, to buy for every reader on your Christmas list, and to read again in a few years. Adored is not too strong a word to describe my feelings for it.' – Dallas News
'Masterfully fleshes out San Francisco's demi-monde… Donoghue's pacing is exemplary…. Blanche never becomes a caricature of the French coquette – she is smart, witty, vulnerable, practical and hopeful by turns, and the reader falls for her instantly. Frog Music also makes a case for the return of blatant eroticism to mainstream literature. Blanche Beunon's world is one of sex and prostitution, Jenny's one of subverting her gender expectations, and both women have a charged sexuality that simmers like that summer heat wave under the surface of the novel.' - San Antonio Current
'She's the kind of writer who never goes less than all-in; her post-Gold Rush city, caught up in a brutal heat wave and a smallpox epidemic, practically sweats through the page' – Entertainment Weekly
'Flawlessly combines literary eloquence and vigorous plotting in her first full-fledged mystery, a work as original and multifaceted as its young murder victim. … an engrossing and suspenseful tale' – Booklist
'A page-turner, full of suspense; fans of "Room" will recognize the dark, gripping tension Donoghue creates so masterfully. But the novel goes far beyond the usual thriller in its nuanced characterizations: Jenny and Blanche are sculpted into living, breathing, feeling individuals, and even minor characters pulse with life. The setting is as alive as the characters, the sights, smells and sounds of the city depicted so vividly I felt I had experienced them firsthand… Blends wit and insouciance with harrowing depictions of callousness and cruelty, creating a vibrant panorama of San Francisco's underside in the 1870s. It is often erotic — Blanche is a prostitute who enjoys her work — and gritty, sometimes tender and even triumphal. In short, it's a great read.' - Minneapolis Star Tribune
'The novel itself shows a lot of leg, dancing back and forth… This sets a jaunty pace, and emerging from it is a portrait quite compelling of two strong, if eccentric, women and the city they live in: raucous, violent, charming, filthy, plague-ridden San Francisco.' - Alan Cheuse, NPR books
'Like Room, Donoghue here displays an uncanny knack for telling an off-putting story in such a way that you can't stop reading it, that you fall a little bit in love with the characters and the moment in time … Donoghue's structure, in which two simultaneous timelines (before the murder and after it) bear down on each other like the heat of the sun, makes the book both a literary character study and a page-turning thriller' – Seattle Times
'The historical tour de force Frog Music, a lyrical, ribald, meticulously researched fictionalization of Bonnet's unsolved murder… Donoghue unravels the narrative masterfully, reeling forward and back to fill out Blanche's story… bristles with the smells, grit, rhythms and carnality of the city's demimonde. It's a rollicking read, punctuated by snippets of French, song lyrics and high-voltage sex scenes… It's a tribute to her storytelling skills that Frog Music never reads like a history lesson, but unspools cinematically, a fluid glimpse of throbbing life, time and place.' – Maclean's
'The pleasures of reading her page-turner result as much from the sensory atmospherics and parade of criminal types as the surprise of the plausible solution itself… As her breakout historical novel Slammerkin proved, Donoghue has the steadiest of hands with stitching together research materials, gender politics, and breathless storytelling. … Lively, exciting and surprisingly tender, its many picturesque (and picaresque) virtues will have readers hoping for an astute industry executive with a film option contract in hand – Vancouver Sun
'This wild ride of a novel shakes, rattles and rolls its way along, throwing off sparks of sensuality and intrigue and transporting the reader through the steamy demi-monde that is the city by the bay in 1876. … in its elaborate use of time, a novel that forges full steam ahead also manages to weave an engrossing web of interconnections… for Frog Music 's swelter and helter-skelter, its regard for the presentness of the moment as well as for the drives that see us through, and above all for its irresistible readability, the only word is formidable. – Irish Times
'It is this particular mix of the sociopolitical with the sensational that makes Frog Music a delicious, if somewhat disorienting read… If Donoghue is a revisionist, tipping over the apple cart of accepted histories, then she is doing it by stealth and having a lot of fun with it.' - The Guardian
'A gripping tale of a woman's struggle to survive in the anarchic, near lawless world of a frontier city… shows what a wonderfully talented and versatile writer Emma Donoghue is.' - Daily Mail
'A subtle inquiry into the possibilities of motherhood, love and sexual freedom… Blanche's fraught journey to independence is artfully structured through flashbacks, fast-forwards and moments of stillness. … Children's rhymes are potent and hard to forget. Frog Music is the same.' – Telegraph
'Reminiscent of Anaïs Nin at her most filthily exuberant… nuanced sexual politics." - Financial Times
'Emma Donoghue's last novel was the gripping Room and there is the same sense of tension, of suppressed panic in this highly charged, elegant murder mystery. …Donoghue's enthralling narrative zips from the past to the present, revealing the heartbreaking secrets behind Jenny's stance… Frog Music soars with the raucous melodies of the street and, even as doubt and darkness creep ever closer, the novel remains thrillingly alive to the possibilities of change and transformation. - Sunday Express
'What Frog Music has in common with Room is its unrelenting gaze on parenthood, and on childhood in its most vulnerable and precarious states… The novel is brilliant as historical fiction and crime thriller, but it succeeds best by showing the everyday things that don't change with time… As a chronicler of motherhood, Donoghue remains hard to beat.' – The Independent
'Is it literary fiction, a whodunit, a historical novel, fictionalized biography? Actuallly it's all of those things but also that relatively rare beast, at least these days – feminist fiction. … The weight of fact and detail doesn't prevent the story bouncing off the page. All the colour and grit of the era is here. Frog Music is shocking in parts, explicit in others, touching and witty.' – New Zealand Herald
'Sexy, mysterious and full of courage' - New Indian Express
EXTRAS
After reading Frog Music you may be interested in Donoghue's annotated list of source documents (full of spoilers!) about the murder of Jenny Bonnet: http://www.emmadonoghue.com/images/pdf/the-san-miguel-mystery-the-documents.pdf
For HarperCollins Canada's wonderful trailer for the novel, please go to https://www.youtube.com/watch?v=ay99snJo5zI
Emma Donoghue, 'Inspiration Information' blog about sources for Frog Music: https://www.newyorker.com/books/page-turner/inspiration-information-frog-music
A Reading Group Guide to Frog Music from Little Brown: http://www.littlebrown.com/rgg/FrogMusic_Donoghue_RGG_FINAL.pdf
Interview with Marcie Sillman: http://cpa.ds.npr.org/kuow/audio/2014/04/414FROGMUSIC.mp3
Interview with the book's US and Canadian editors, Judy Clain and Iris Tupholme, 'Two Editors, One Novelist', http://www.slate.com/authors.emma_donoghue.html
Bibliography
Sarah Hajkowski, 'Singing, Screaming, Croaking: Melodies in Emma Donoghue's Frog Music,' Erato Magazine 22 September 2023 https://www.eratomagazine.com/post/singing-screaming-croaking-melodies-in-emma-donoghue-s-frog-music
Rachel M. Friars, ' "The curiosity with which that fist moves": Lesbian Erotics in Sarah Waters' Tipping the Velvet and Emma Donoghue's Frog Music,' Queer Studies in Media & Popular Culture, 6:3 (September 2021), 217-23
Michael Lackey, 'Emma Donoghue: Voicing the Nobodies in the Biographical Novel,'
in Éire-Ireland, 53:1-2 (Spring/Summer 2018), 120-133, and in his ed. Conversations with Biographical Novelists: Truthful Fictions across the Globe (London: Bloomsbury, 2018), 81-92.
Marisol Morales Ladrón, review article on Frog Music in Estudios Irlandeses 10 (January 2015), 157-9, https://www.researchgate.net/publication/318780947_Review_of_Frog_Music_by_Emma_Donoghue_London_Picador_2014
Ron Charles, 'Frog Music by Emma Donoghue', The Washington Post, 23 March 2014, http://www.washingtonpost.com/entertainment/books/frog-music-by-emma-donoghue/2014/03/25/2fa40ac2-b2ea-11e3-8cb6-284052554d74_story.html
Alan Cheuse, ' "Frog Music" Sounds a Barbaric (But Invigorating) Yawp', NPR, 1 April 2014, http://www.npr.org/2014/04/01/294862873/frog-music-sounds-a-barbaric-but-invigorating-yawp
Alex Preston, 'Emma Donoghue's Sophisticated Whodunnit', The Observer, 30 March 2014, http://www.theguardian.com/books/2014/mar/30/frog-music-review-emma-donoghue-sophisticated-whodunnit