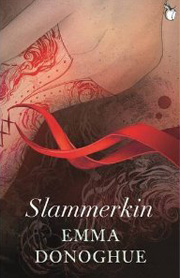 Slammerkin (London: Virago, 2000, reissued 2012; New York: Harcourt, 2000; Toronto: HarperCollins Canada, 2009). Inspired by a murder that took place in the Welsh Borders in 1763, Slammerkin, my third novel (and first historically inspired one), is about a prostitute obsessed with clothes. A surprise bestseller, it was a Main Selection of the Book of the Month Club and the Quality Paperback Book Club, a finalist in the 2001 Irish Times Irish Literature Prize for Fiction, a Barnes and Noble Discover Selection, a Book Sense 76 Selection, and one of the Notable Books of 2001 chosen by Publishers Weekly and the New York Times.
A personal note: Slammerkin began as one of the stories for the collection I would go on to publish as The Woman Who Gave Birth to Rabbits, but I soon realized that it would take the length of a novel to figure out why this murder happened back in 1763. The work I was doing for my PhD on eighteenth-century fiction really helped, giving the novel a fiercely revisionist take on gender, class and race. Historical fiction was not yet trendy in the late 90s, and my agent and I both feared that this dark, Darwinist story would be impossible to sell (and it certainly was difficult). I credit the wonderful Lennie Goodings, publisher of Virago, for improving it in three vital ways: she made me put in 'lots more London', take the slave character far more seriously, and change the title from the doleful The Complaint of the Crows (what was I thinking?!) to 'some delicious clothing term': the one we found was 'slammerkin', which fortuitously means both a loose dress and a loose woman. The novel became an indy bestseller: to my surprise, modern American readers (in particular) were more than able to connect with the brooding resentments of a teenage street prostitute in eighteenth-century London. Looking for a model for the warm but frazzled murder victim, I picked my mother, never thinking she would recognize herself across more than two centuries in this Welsh Protestant dressmaker… but she did, ringing me up to ask (with great good humour), 'I'm the one who gets it in the neck with the cleaver, amn't I?'


To buy Slammerkin
In the US, paperback: http://www.hmhco.com/shop/books/slammerkin/9780156007474
or ebook: http://www.hmhco.com/shop/books/Slammerkin/9780547443294
In the UK/Ireland/Australia, paperback: https://www.littlebrown.co.uk/books/detail.page?isbn=9781844087341
or ebook: https://www.littlebrown.co.uk/books/detail.page?isbn=9780748133444
or audio: https://www.littlebrown.co.uk/books/detail.page?isbn=9781405521567
or https://thereadinghouse.co.uk/products/slammerkin-by-emmadonoghue?_pos=4&_sid=7edcf9ef4&_ss=r
or Modern Classics hardback: http://www.amazon.co.uk/Slammerkin-Virago-Modern-Classics-Donoghue/dp/1844088200/ref=sr_1_1?ie=UTF8&qid=1353601512&sr=8-1

In Canada, in paperback:
http://www.harpercollins.ca/9781554684700/slammerkin
Wherever you live, PLEASE support your local indie bookstore by buying from them either directly or through an indie-friendly hub such as bookshop.org or hive.co.uk.
Translations
Das Rote Band (Munich/Zurich: Piper, 2013)
Kokkine kordela (Athens: Alexandreia, 2004)
Lichtekooi (Amsterdam/Antwerp: Atlas, 2001)
Available in Chinese (simple characters) and Hungarian.
Reviews
'What a great read this book is: Think Forever Amber skewed with an elegant noir twist and informed by a high literary intelligence. … This absorbing, bawdy novel gives new meaning to the term costume drama. By all means, try it on for size.' – Washington Post
'Emma Donoghue's heady, colorful romp of a novel [is] almost impossible to resist.' – New York Times Book Review
'Absorbing, moving and intelligent… her writing is suffused with sensuality and sharp emotion.' – Times Literary Supplement
'A rock-solid novel of class conflict and desire.' – Now
'Donoghue has made of an 'obscure and brutal story' a compelling novel, her best to date, and a brilliant historical variant on the 'girl about town' novels that currently fill the bookshops.' – Financial Times
Bibliography
Michael Lackey, 'Emma Donoghue: Voicing the Nobodies in the Biographical Novel,'
in Éire-Ireland, 53:1-2 (Spring/Summer 2018), 120-133, and in his ed. Conversations with Biographical Novelists: Truthful Fictions across the Globe (London: Bloomsbury, 2018), 81-92.
James Ward, 'Emma Donoghue's Enlightenment Fictions,' in Memory and Enlightenment: Cultural Afterlives of the Long Eighteenth Century (London: Palgrave Macmillan, 2018), Ch.3
Hedwig Schwall, 'Texting the self: Weaving a way into the self & into society', RISE (Review of Irish Studies in Europe) 2:1 (March 2018), 1—32.
Shikha Thakur and Dr Meenakshi F. Paul, 'Hysteric Sexuality, Prostitution and Womanhood in Emma Donoghue's Slammerkin', in Bharatiya Prajna: An Interdisciplinary Journal of Indian Studies, Vol. 2, No.1 (2017).
Emma Young and Claire O'Callaghan, 'Lovers of Liberty? Women, Prostitution and the Politics of Choice in Emma Donoghue's Slammerkin,' in Women: A Cultural Review, Vol. 27, Issue 2 (2016), http://www.tandfonline.com/doi/abs/10.1080/09574042.2016.1227153
Maria Mulvany, 'Spectral Histories: The Queer Temporalities of Emma Donoghue's Slammerkin,' in Irish University Review, 43 (2013), 157-68. A very smart essay reading this novel as queer in the broadest sense.

Libe Garcia Zarranz, ' 'The Whole City's our Bawdy-House, My Lass': Deterritorialized Bodies and Affective Spaces in Emma Donoghue's Slammerkin and Dionne Brand's What We All Long For,' in Peer English (Special Issue on Time and Space in Contemporary Women's Writing, 2013)
Elizabeth Kowaleski Wallace, 'The agency of things in Emma Donoghue's Slammerkin,' in Women, Popular Culture, and the Eighteenth Century, ed. Tiffany Porter (Toronto: University of Toronto Press, 2012), 242-56.
Maria Mulvany, 'The Haunted Skin: Spectral Traces in Emma Donoghue's Slammerkin', paper delivered at International Association for Studies in Irish Literatures (Leuven, 2011)
Emma Young, ' 'Home Sweet Home': The Quest for Home in Emma Donoghue's Slammerkin,' paper delivered at PGCWWN: Time and Space in Contemporary Women's Writing conference (University of Hull, 2011).
Marisol Morales Ladron, 'The Representation of Motherhood in Emma Donoghue's Slammerkin,' in Irish University Review (March 2009), http://www.thefreelibrary.com/The+representation+of+motherhood+in+Emma+Donoghue's+Slammerkin.-a0204544278
Donna Potts, '"Wales is Where England Runs Out": Celt/Saxon Dichotomy in Emma Donoghue's Slammerkin,' Wales/Ireland Postgraduate Symposium (Cardiff University), 2009.
Shauna Goble, 'A skin that had split, and been shed': Female Identity and Sexuality in Emma Donoghue's Slammerkin and Hood,' paper delivered at ACIS South (2007).
Eibhear Walshe, 'Emma Donoghue, b. 1969', in Anthony Roche, ed. The UCD Aesthetic: Celebrating 150 Years of UCD Writers (Dublin: New Island, 2005), 274-84. Insightful analysis, especially of triangles in Slammerkin.
Donna Potts, 'Disorderly Women and Emma Donoghue's Slammerkin,' Western meeting of the ACIS, Oregon State University (2005).
Linden Peach, The Contemporary Irish Novel: Critical Readings (New York: Palgrave, 2004), 12, 76-84.
Vince Passaro, 'For Want of a Few Fine Things,' Elle, July 2001
Zofia Smardz, 'Satin Doll,' Washington Post, 17 June 2001
'Taking Readers Where They Can't Go on Holidays', Books Ireland, September 2000
Linda Richards, 'Emma Donoghue', www.januarymagazine.com/profiles/donoghue.html (November 2000)
Vicky Allan, 'Messy Business,' Scotland on Sunday, 6 August 2000
Eve Patten, 'Tart with an Exotic Flavour,' Irish Times, 29 July 2000
Fiona Shaw, 'The Sinful Price of a Dress Called Skin,' Financial Times, 22 July 2000
Alev Adil, 'Cullies, Strollers, Mollies and Pimps,' Times Literary Supplement, 21 July 2000